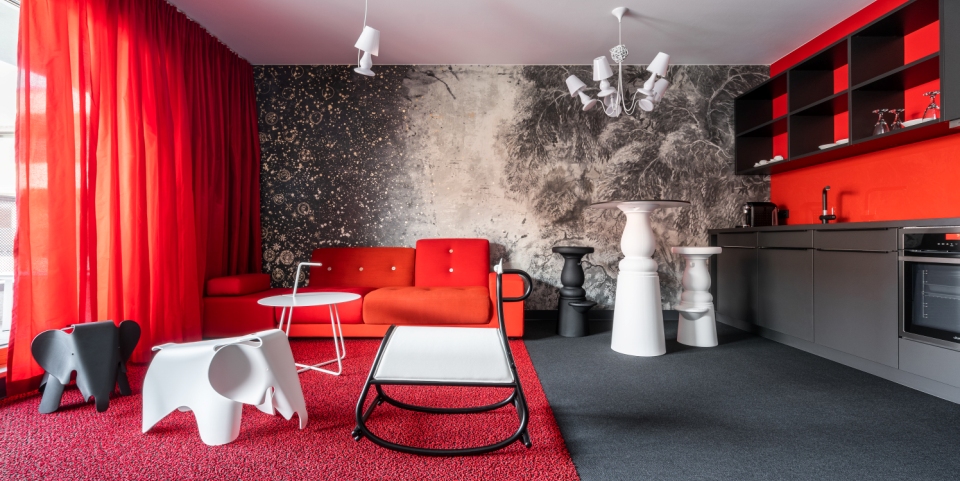 Leading company in the Made in Italy furniture and décor sector Bonaldo was chosen by the Seidel+Architekten firm to furnish the Laurichhof "design hotel" in Pirna.
Located in Saxony, the Laurichhof offers a unique experience: during their stay, guests can try out the objects that furnish and decorate their accommodation and, if they wish, they can buy them.
To furnish the Laurichhof hotel's suites, the architects of the Seidel+Architekten firm have selected various objects designed by Bonaldo.
Bonaldo products have been chosen to furnish some of the hotel's 27 suites, which are all different and have names that match their style and atmosphere, ranging from the "Palazzo de Medici" suite to the "Big in Japan" room, "Unter dem Meer" underwater room, "Marrakech" apartment and many others.
Big in Japan
The Big in Japan apartment is a tribute to the culture of the oriental home, reinterpreted from a design perspective. Bonaldo's Squaring bed forms an island reminiscent of the Japanese concept of tatami, while the May bookcase is the only furnishing element in the hallway and the brightly coloured Kernel poufs and April bookcase create a luminous, relaxing oasis.
Fantasia
The furnishings in the Fantasia suite have unusual and original designs. This is the ideal place for Bonaldo's Picabia bed, whose headboard consists of a disjointed cushion arrangement, and for the Nemesi coffee table, in which straight lines and a circle intersect to create a balanced overall effect.
Honey Mohn
This floral room in the Laurichhof brings people closer to nature. Bonaldo's elegant Sheryl chairs were chosen for the romantic Honey Mohn suite, lending it a touch of sophistication and matching the shades of the flowers on the walls.
Marrakech
A room that evokes the magical atmosphere of Morocco, featuring oriental decorations and precious details. This apartment is home to Bonaldo's Cabinet de Curiosité bookcase, whose design makes it a container of experiences, memories and inspirations, as well as the Cop table with its top in the exquisite Ceramica Calacatta finish.
Palazzo de Medici
There is also a corner of Italy in the Laurichhof: the Palazzo de Medici suite recreates the atmosphere of Florence Renaissance, while Bonaldo's Mass Table interprets its spirit with its geometric design and symmetrical aesthetic.
Unter dem Meer
Literally the room "under the sea", this suite evokes the underwater world with its selection of interior colours, shapes and patterns. In the centre of the living area, Bonaldo's Peanut B sofa, which has an iridescent turquoise blue finish and soft seats, allows you to fully immerse yourself in this relaxing environment.
Whiteout
Whiteout is a total-white suite with a fresh, bright effect. In this space, guests experience a relaxing, calming sensation of infinity that restores their body and mind. Bonaldo's Origami table in the elegant Ceramica Calacatta finish perfectly complements this suite's interior.