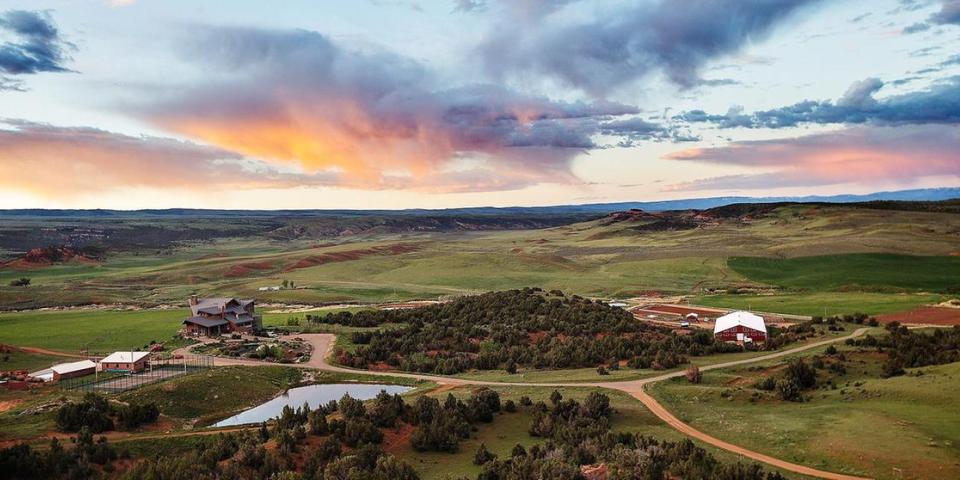 Red Reflet Ranch, one of the luxury guest ranch in Ten Sleep, Wyoming, just hit the market for roughly US$20mn.
The 28,000+ acre ranch has a jet capable landing strip, 13 homes, 100+ miles of trails/roads, a world-class equestrian compound, a natural water park, a butcher shop, a large organic garden, a greenhouse, shooting ranges, and more.
The main lodge, constructed in 2008, is about 9,700 sq ft and contemporary western in style. It includes a 12-seat theatre, a temperature-controlled wine cellar, three dining areas, a commercial kitchen, a bar and a great room with a massive wood-burning fireplace. There are four luxurious chalets as well as barns and other houses for staff. There are also elaborate equestrian facilities, including a roughly 22,000 sq ft indoor riding arena. The ranch has its own hangar and a 5,000 ft lighted runway.
The guest ranch facility, which charges from roughly US$550 to US$850 a night per person, is a profitable enterprise that helps pay for the costs of maintaining the ranch, which sits at the foothills of the Bighorn Mountains.
For more information, visit www.red-reflet-ranch.net/