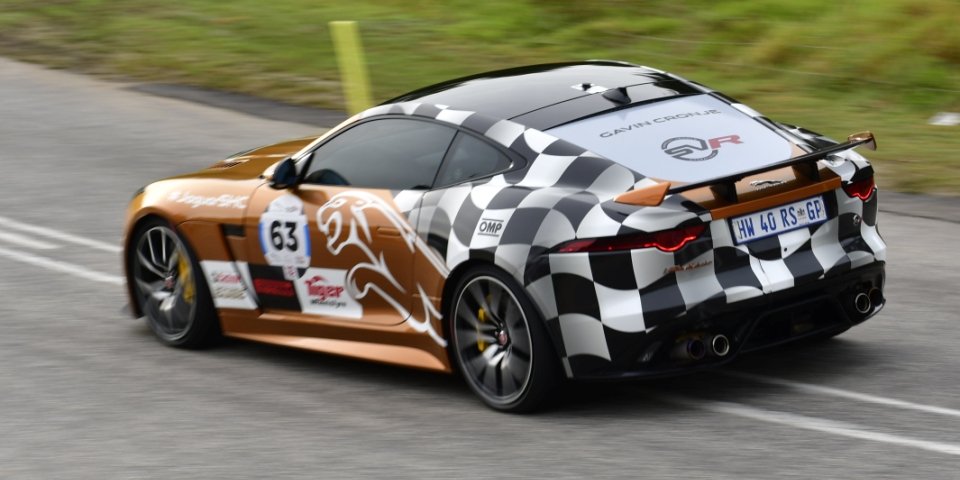 Team Jaguar came out in force for the tenth anniversary edition of the Jaguar Simiola Hillclimb, with the company gaining podium finishes for all eight entries into the competition.
Nearly 250,000 race fans (either online via livestream or in person at the Knysna resort) witnessed the gripping series of races, which stands tall as the premier motorsport event in South Africa.
Arguably the highlight of the event was the brother-versus-brother standoff of World Champion karters Mark and Gavin Cronje, who went head-to-head in a pair of showroom-standard 423kW F-TYPE SVRs. While older brother Mark set the fastest, fastest lap of the weekend with a 44.889 second run in an early qualifying session, it was young blood Gavin who triumphed in the finals, scoring top honours in Class A7 with a best time of 45.096 seconds – three tenths ahead of his sibling.
The pair also clashed during the Top Ten shootout for Road and Supercars, with Gavin gaining another impressive 45-second lap and earning second place, while Mark ranked tenth in the competition.
"I pushed hard this weekend and I'm a bit disappointed to have just missed out on the overall win," said Gavin. "Two trophies is a good result in the end and the F-TYPE performed flawlessly. The Jaguar Simola Hillclimb is a fantastic event and I'm thrilled to have been part of it."
Racing royalty Don Joubert, Shaun Watson-Smith and Mike Briggs also stunned fans in the EV and Hybrid category, putting pedal to the metal in a trio of all-electric Jaguar I-PACEs. Each driver wrestled to out-maneuver their esteemed competitors in their near-silent 294kW SUVs; but in the end it was Briggs who came out on top, swiftly followed by Joubert and Watson-Smith.
"I'm astounded with the performance of the I-PACE," said nine-time saloon car champion Briggs. "There's a massive amount of instantaneous torque available here and when you put all 696Nm down off the line it launches toward turn one like a freight train. I think some competitors were shocked with just how fast an EV can be."