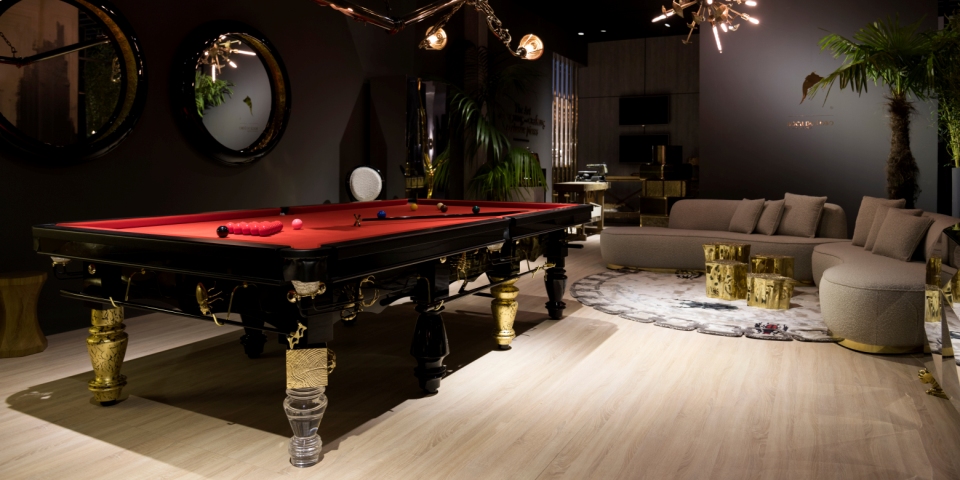 Boca Do Lobo has its passion for fun-loving furniture to the next level, wowing sports fans with the emergence of a 10-foot Metamorphosis snooker table, which featured at this year's Milan Furniture Fair.
Stemming from the regal realms of the 16th century elite, snooker has evolved to accommodate all social classes, towing the line as both an unwinding pub game and a well-respected suit-and-tie sport. In celebration of the sport's luxe history, Boca Do Lobo has crafted its own table for lovers of the aptly named 'gentleman's sport': Metamorphosis.
Crafted from a combination of carving wood, foundry and casting brass, the Metamorphosis snooker table has been fashioned with both function and unparalleled flair in mind. Atop of eight black wood legs rests a stark Strachan Red cloth table, made in keeping with the traditional regulations of the sport. However, it's the small details which bring Boca Do Lobo's table to unprecedented levels of lavish. Each leg is embellished with casted black brass bugs and gold scorpions, embracing the darker side of nature alongside the black lacquer finish and glossy varnish of the birch. All corners have been tempered from aluminium, nursing leather-lined pockets to perfectly fit all 21 balls (15 red, one yellow, one green, one brown, one blue, one pink and one black), as well as the white. Unlike pool, each snooker ball has a specific value, with each red ball scoring one point and other different colours increasing in worth.
The Metamorphosis snooker table come alongside a professional snooker kit and pair of 9mm-diameter Ronnie O'Sullivan cues, regarded as the most sought after of their kind by ABC Snooker. Custom made in England, the cues are the weapon of choice for the world's number-one snooker player. Since starting his career in 1992, O'Sullivan has won three world championships with his fast, attacking playing style, gaining an OBE along the way for his contributions to the sport.
For more information about the Metamorphosis snooker table, visit the Boca Do Lobo website.