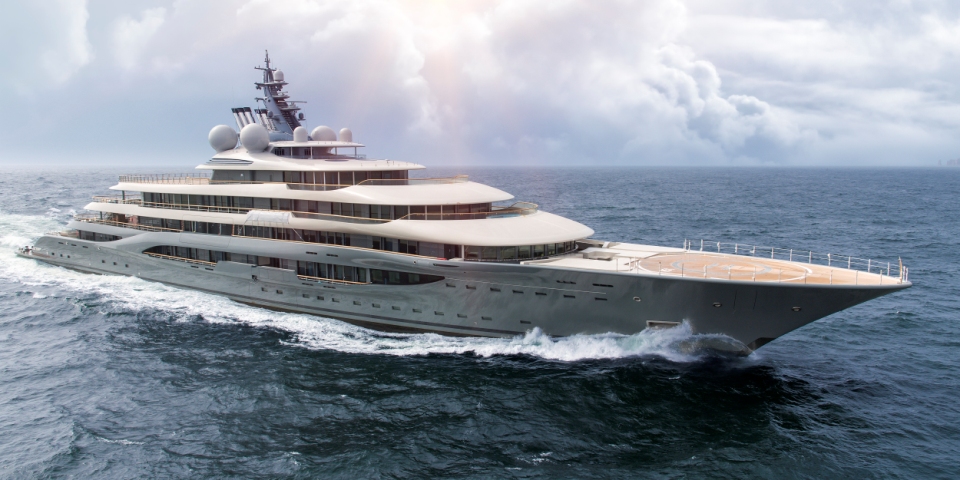 Germany's leading shipyard for bespoke luxury yacht building company Lürssen delivers a staggering amount of three yachts with a total length of more than 340 m in 2019
Project Tis
Project Tis will leave the shipyard in March 2019, which is a quintessential 111 m yacht with exterior and interior design by Winch Design. With long and well-balanced sheerline, TIS is a supremely elegant yacht. With a beam of 16.85 m, it boasts extraordinary volumes accommodating all of the owner's requirements. TIS features six decks and offers spacious interior and exterior areas for guests, making it the perfect yacht for entertaining on a grand scale.
The sweeping staircases at the transom create an impressive entrance, which sets the tone for the rest of this palatial yacht, with very generous ceiling heights, sophisticated interior decoration and Lürssen's customary attention to detail.
"Her classical interior takes its inspiration from iconic hotels and residences around the world, featuring timeless décor and meticulous attention to detail that has become synonymous with Winch Design," commented Kate Maclaren, partner, yacht interiors at Winch Design.
Project Shu
Project Shu will leave the shipyard in March and designer Espen Oeino has given her an elegant and graceful exterior line whilst ensuring, despite her massive volume, that she maintains her striking looks.
The balance and proportion of the exterior profile allow for generous deck space that offers a range of options for owners and guests to enjoy. From sun opulent and open entertainment areas to more shaded and intimate spaces. A special feature is the enormous swimming pool, which runs transversely on the main deck aft. The exterior also boasts two helicopter-landing pads, one on the bridge deck and another on the sun deck aft, allowing for multiple helicopter use for owners and guests. Other highlights of her profile include the sea terraces and platforms, which enable guests to access the water easily for water sports activities as well as relaxation.
In perfect combination with her beautiful exterior, designer Mark Berryman has created an interior that is nothing short of spectacular. SHU has a calm and spacious feel, which has been beautifully crafted with the use of soft neutral tones and tactile finishes.
Project Fiji
The third yacht to leave the shipyard during the summer is project Fiji. Harrison Eidsgaard has given Fiji very harmonious proportions and with a length of 95 m and a beam of 14 m she boasts extraordinary volumes whilst still maintaining sleek and very elegant lines.
Peder Eidsgaard explained, "Wide exterior staircases together with centerline openings provide seamless connections between the generous exterior decks. A fabulous pool and Jacuzzi deck aft is raised three steps and is protected by glass bulwarks that are an integral part of the exterior profile, providing for very clean and uncluttered hull surfaces."
The interior is designed by Studio Laura Sessa and can best be described as contemporary modern. Laura Sessa commented, "For this interior design yacht project, I invested inner artistic creativity due to my long relationship with the Owner. I playfully created spaces full of customised details and colours from the sea, emanating harmony and elegance. All decks were designed with a specific focus on comfort but also practicality."
"The result will be absolutely stunning," Sessa said.
Among the special features are large beach club and spa areas with a sea terrace on the lower deck. On the upper deck, are a walkable skylight and an integrated fireplace for cosy moments in the evening. The bow is laid out for a certified helicopter landing area. The sun deck aft offers a hidden crane in the bulwark to handle an aeroboat.