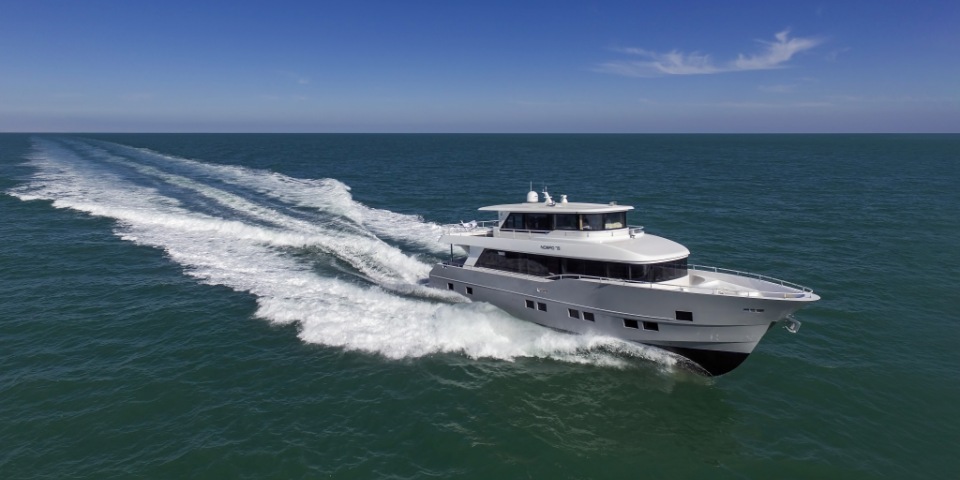 Gulf Craft, the Emirates pioneer builder of luxury yachts and leisure boats, has arrived at the 27th edition of the Dubai International Boat Show with a fleet of 12 vessels
The triple-deck Majesty 140, the biggest superyacht in Gulf Craft's collection for this year's show is a masterpiece that will capture all the attention. The award-winning Majesty 100, famed for her sky-lounge deck, will also be on display along with the owner-managed Majesty 62.
Riding the waves of success, Gulf Craft introduces an all-new range of innovative solar-powered Nomad Yachts, the next generation of Oryx Sport Cruiser and a new breed under the Silvercraft fishing boats.
The company hails the year 2019 as "The Year of Nomad Yachts" as it harnesses a smart approach to family yachting with its range of environment-friendly yachts. In line with its serious steps to reduce its carbon footprint, Gulf Craft will be offering customers the solar-power option for all its yachts in the future.
Foreseeing a great market potential for practical, long-range luxury yachts, Gulf Craft launches three brand new Nomad Yachts called the SUV (Sports Utility Vessel) Collection. The Nomad 95 SUV, Nomad 75 SUV and Nomad 65 SUV all feature semi-displacement hybrid hulls designed to withstand any sea condition and are able to travel long distances.
British Naval Architect Andrew Wolstenholme is responsible for the design of the hulls of the new Nomad Yachts, while the exterior styling and interior design of the vessels have been the work of Gulf Craft's own in-house design team. The new yachts have been built using lighter, stronger and rigid advanced composites like Kevlar and carbon fibre to increase stability and fuel-efficiency.
The new Nomad Yachts will cater to those adventurous seafarers with a desire to explore new cruising grounds. The yachts are engineered to offer premium comfort, safety, and oceangoing capability. All the vessels under the Nomad Yachts brand feature a functional design that meets 'CAT A' specifications and the brand's flagship Nomad 95 is built to Bureau Varitas Commercial Charter.
Mohammed Alshaali, chairman of Gulf Craft, is very enthusiastic about the new additions to the Nomad Yachts range. He commented, "The new Nomad Yachts are set to redefine the future of yachting. They are created for those who enjoy escaping the routine and travelling together with their families. The Nomad Yachts transform yachting into a memorable experience for the guests onboard. It is truly the future of family yachting."
Every year, Gulf Craft fascinates the world with its innovative range. This year, it continues its voyage, investing its successful track record to shape a whole new collection of yachts and boats.