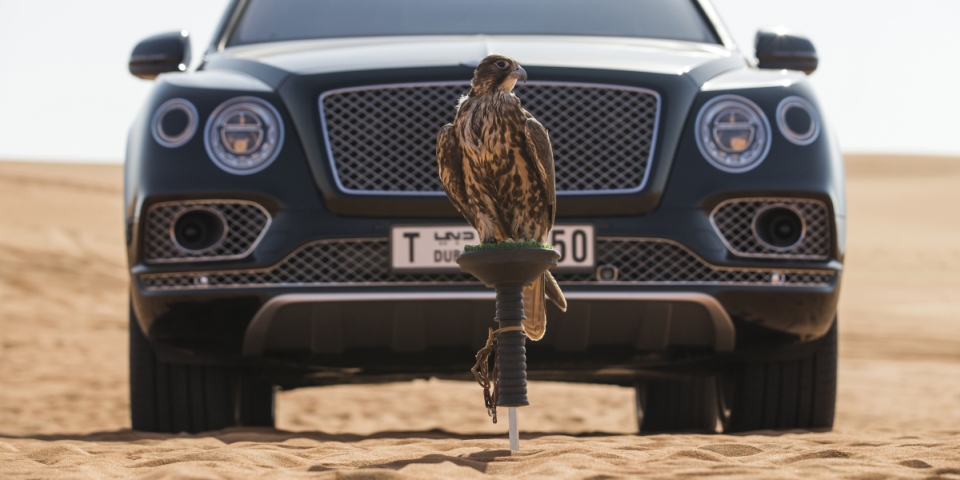 Bentley has launched the Bentayga Falconry by Mulliner, the perfect accessory for the falconry enthusiast
The Bentayga Falconry, hand-crafted by Mulliner The Bentayga Falconry offers a bespoke installation in the rear which houses all the equipment required for an enjoyable falconry expedition.
At the heart of the Bentayga Falconry by Mulliner are two individual natural-cork-fabric-trimmed units: a master flight station and a refreshment case. These sit on a movable tray that allows for easy access. Inside the master flight unit is a special Piano Black veneered drawer – with a saker falcon crest – containing bespoke storage for all the equipment required for this unique sport.
Bentley noted that two individual perches are stored in a special natural-cork-fabric-trimmed case which slots into a hard pocket built into the side of the boot. A boot-floor and rear-sill protection cover – also in cork – is discreetly integrated into the rear of the Bentayga. Using this reversible feature in conjunction with the in-car perch, falconers can prepare their bird in comfort and shade.
Bentayga's Hotspur-hide-trimmed cabin provides a removable transportation perch and tether on the central armrest. The sweeping desert scene – featuring a soaring saker falcon – was created using 430 individual pieces of wood sourced from all over the world and hand-crafted over nine days.
"The Bentayga Falconry showcases what's possible with our skilled craftspeople. They can devise elegant and exquisitely executed bespoke solutions to compliment any lifestyle or hobby. Falconry is regarded as the sport of kings in the Middle East, so it was vital that the kit we created was as luxurious as it was practical and durable to appeal to our valued customers there and around the world," said Geoff Dowding, director of Mulliner.