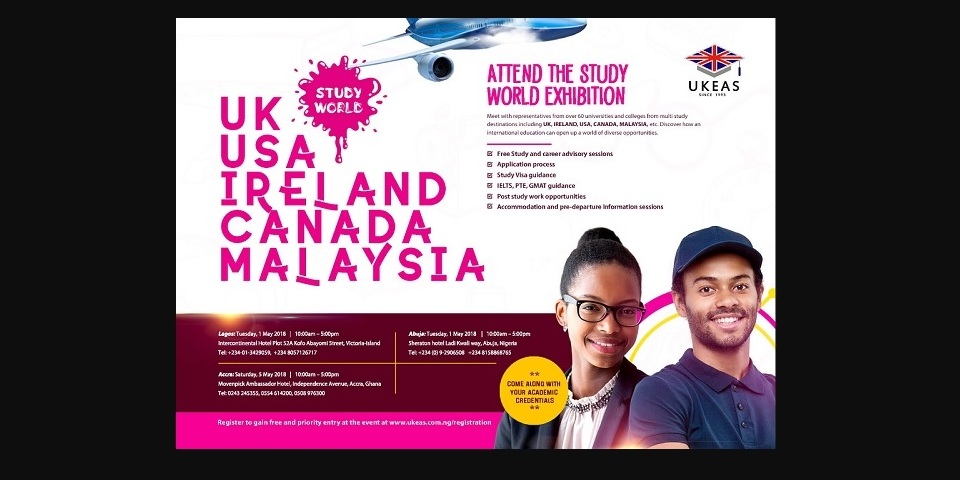 The Study world Exhibition is a bi-annual overseas study fair organized by the United Kingdom Education Advisory Service (UKEAS) Nigeria
Now in its 6th year it remains one of the biggest overseas education event taking place in Lagos, Abuja Accra, Ghana. The Exhibition provides an easy and fast way for you to study abroad by giving you direct access to top rated institutions from multi study destinations including UK, USA, Canada, Australia, Ireland, Malaysia, etc.
You can meet with representatives from these institutions, explore their various course offerings and also discover how an international education can open up a world of diverse opportunities.

Benefits of Attending The Study World Exhibition
• Free Study and career advisory sessions
• Application process
• Study Visa guidance
• IELTS, PTE, GMAT guidance
• Post study work opportunities
• Accommodation and pre-departure information sessions

Attendance is strictly by registration as there are usually limited seats available. Please see registration details below:
Nigeria: https://bit.ly/2EOIXtn
Ghana: www.ukeas.com.gh/registration
Lagos - VI
Tuesday, 1 May
Intercontinental Hotel
Plot 52A Kofo Abayomi Street,
Victoria-Island, Lagos
Time: 10:00am – 5:00pm
Tel: +234 8057126717
Accra-Ghana
Saturday, 5th May
Movenpick Ambassador Hotel
Independence Avenue, Accra, Ghana
Time: 10:00am – 5:00pm
Tel: +233 502568920
Abuja
Thursday, 3rd May
Sheraton hotel
Ladi Kwali way, Abuja, Nigeria
Time: 10:00am – 5:00pm
Tel: +234 8158868765