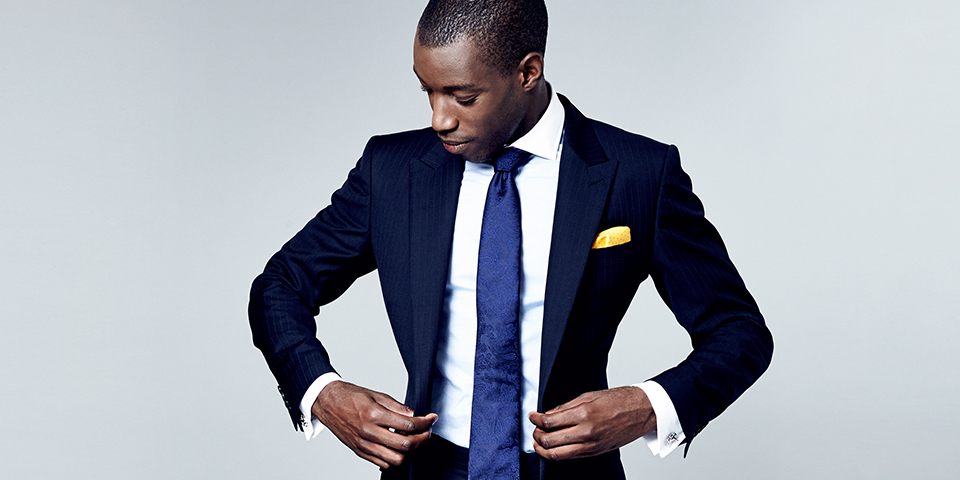 Anthony Adebo, founder of menswear label Kingdom, is a fashion entrepreneur with an eye for style and business sense to match. With an enviable client list in London, Monaco and Lagos, Adebo has tailored suits for Gordon Ramsey and other high-profile arbiters of taste.
Elite Living Africa (ELA): Kingdom is quite new to Savile Row; what sets it apart?
Anthony Adebo (AA): Kingdom's USP. I think the time is right to create a British menswear label with a different outlook from the classical Savile Row backdrop or the new age contemporary street wear look. Kingdom was set up to provide, at the top end, a fresh and ready alternative to the established Italian and French brands. It is for the well-travelled, wellversed, sartorially conscious 21st century man yearning for unparalleled luxury. We started with tailoring, but we're now in the process of expanding into casualwear, beachwear and winter chic, all in the quintessential 'Kingdom man' style.
ELA: When it comes to tailoring, how do the different countries compare?
AA: Savile Row is the benchmark for tailoring and many styles came from an adaptation of the original Savile Row look. Italian tailoring varies greatly, mainly from the north in Milan to the south in Napoli. Milanese tailoring is very similar to Savile Row and Neapolitan tailoring of which I am a disciple is very soft and more relaxed and arguably more comfortable. French tailoring at the top end is magnificent but below that I cannot say.
ELA: You started out in finance, so what inspired you to go into this industry?
AA: I am a purveyor of style, and learning about fashion. I believe in creating clothes that endure. To use an old adage 'Fashion fades, but style is eternal'. I was very lucky to have been brought up with two designers for parents and from a very young age I knew the difference between 'oxfords and double monks'. I always knew this industry would be for me at some point, because it enables you to create a persona for yourself and for others to view you by. Many of my clients are so particular about things that some might ridicule them for bordering on the obsessive; however, this is what adds up to create their armour. It is the way they choose to face the world and I am honoured to be a part of that. To quote someone who I look up to and in a way share many of his views regarding designs and creativity, Lapo Elkann said in an interview the other day that he believes everybody wants to be able to create a persona for themselves. From the colour of their watch strap to the pattern on their scarves, everyone chose said item because of a very personal choice. As such, he believes that for the creative our job is to enable them the ability to create items of their dreams and, most importantly, regardless of the price!

The rest of the interview can be read on page 18 in the latest issue of Elite Living Africa: http://www.elitelivingafrica.com/current-issue