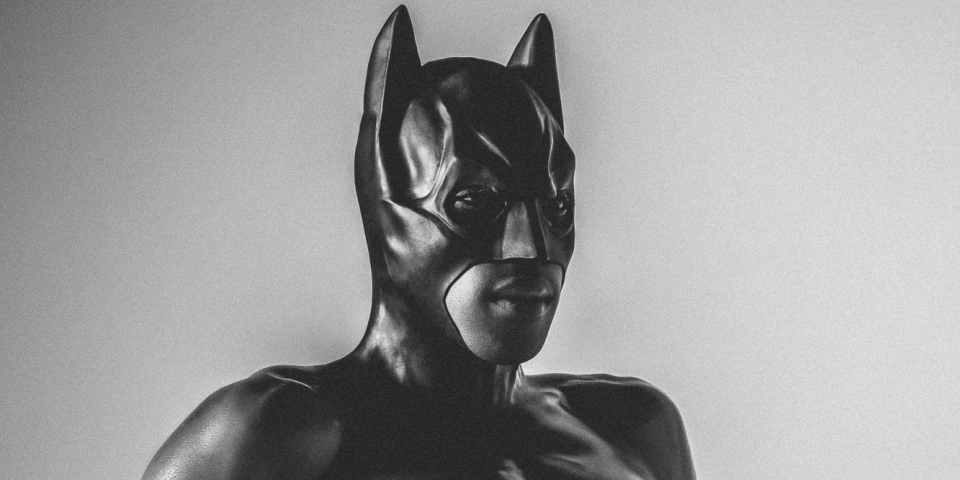 Lagos-born, London-based photographer, Buki Koshoni presents 'Batman/ Blackman – Duality of Existence', a photograph series that explores culture and identity and the duality of existence of the black male, within modern society.
The photographs depict a semi-nude male wearing a Batman mask, in a variety of powerful poses. The model in the photographs represents the artist, whose work is biographical and draws on the self within the public sphere. The mask represents the metaphorical disguise worn by the artist, when attempting to confirm to the social norms of his surroundings.
Koshoni shoots narrative imagery, placing people in costumes and environments, that compliment, validate, or disassemble their public persona. This very personal series of work reflects Koshoni's own background, having moved to the UK from Lagos when he was just six years old. The work is a nod to his two cultural sides and explores where they both meet.
Koshoni is particularly interested in using the human body as a tool of expression – the nakedness of the body is about truth and portraying the pure self without adornments. The sharp side lighting gives the body prominent light and dark patches, which reflect the duality of existence, light and dark, good and evil, positive and negative.
The work can be viewed and purchased online at https://www.bukikoshoni.com/batman-blackman/
To read more about Buki Koshoni, look out for the next issue of Elite Living Africa