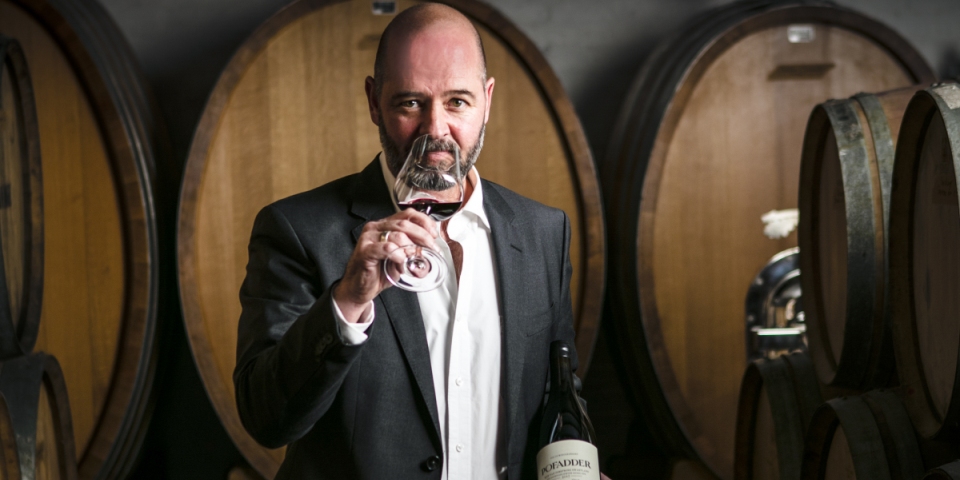 WineCellar.co.za fine wine merchant James Pietersen shares his top selection of 2018
We caught up with Winecellar.co.za fine wine merchant and leading SA wine judge James Pietersen to chat wine and the best of the best in 2018. With over 5000 wines passing his expert lips each year, James' word is law when it comes to choosing SA's finest wines.
So without further ado, here are the wines that James feels have had the most impact in 2018. We suggest you get shopping as they won't be on shelf (or site) for long …
1. Alheit Vineyards, Huilkrans Chenin Blanc 2017 – R 625 (N/A)
Chris and Suzaan Alheit, together with their assistant Franco Lourens and viticultural consultant Etienne Terblanche, are the dream team that has firmly established Alheit Vineyards as SA's premier white wine producer. The 2017 Huilkrans is a clear expression of terroir, showing us the Alheits' true mastery. Simply one of the greatest whites ever made in SA.

2. Sadie Family, Mev. Kirsten Chenin Blanc 2017 – R 895 (N/A)
By now, the Sadie Family needs no introduction. Their wines have revolutionised the South African landscape and inspired a whole generation of winemakers. The 2017 Mev. Kirsten is easily one of the best South African white wines we have ever tasted. It is the epitome of old-vine Chenin Blanc from SA's oldest Chenin block, which was planted in 1920.

3. Neil Ellis, Jonkershoek Cabernet Sauvignon 2015 – R 385
Warren Ellis and his siblings, who have taken over the family business, are bringing this stalwart producer into this new and exciting era in South African wine. This keenly-priced wine is 'a must' for any fine wine collector.

4. Richard Kershaw, Elgin Clonal Selection Pinot Noir 2017 – R 610 (Limited)
Richard Kershaw produces world-class wine. Focusing on what is best suited to Elgin, he started with Chardonnay but soon branched out to Syrah and now Pinot Noir. This 2017 vintage emphasises how far Elgin Pinot has come and confirms its potential, in terms of becoming a world class Pinot Noir producer. A pure, delicious and elegant wine that offers power as well as finesse.

4. Mullineux, Single Terroir Schist Syrah 'Roundstone' 2016 – R 995 (Limited)
At the cutting-edge of South African fine wine, the Mullineuxs have received many ground-breaking awards and, since 2007, they have focused their Swartland efforts on Syrah and Chenin Blanc. The 2016 Roundstone is a standout Swartland Syrah from a great Swartland Syrah vintage.

5. Savage, Red 2015 – R 290 (N/A)
Duncan Savage's wines are some of SA's most sought-after releases and, with some of his wines reaching 'cult' status, his following grows every year. At the heart of Savage's success, the current-release 2015 Red underscores the refinement of Duncan's vision. From another great vintage, it is certainly the most serious Savage Red to date.

6. Rall, White 2017 – R 305 (Limited)
Donovan Rall is one of SA's most exciting winemakers. In 2008, it all started with a bang when his first Rall White was awarded a Platter's 5-star. Since then, Donovan's wines have continued on an unbelievable upward trajectory. His Rall White is one of the most sought-after white wines in SA and has developed a near-cult following. The 2017 is even better than previous vintages which underscores the growing excellence that we keep on seeing from the very best producers.

7. Cape Point Vineyards, Isliedh 2017 – R 275
Produced from vineyards established by Rosa Kruger, the Isliedh is sourced from south-facing vineyards situated high on the Cape Point peninsula overlooking Noordhoek. From the 2017 vintage, an exceptional year for white wine, the Isliedh is a South African classic that showcases a remarkable vineyard. The 2017 is even better than previous releases and, at this level, offers incredible value. Due to be released in December 2018.

8. Boekenhoutskloof, Syrah 2016 – R 465
The 2016 Swartland harvest produced smaller berries with a greater ratio of tannin to juice and much more concentration. 80% of the fruit comes from Porseleinberg and 20 per cent from their Goldmine vineyard. Returning to form, Boekenhoutskloof is now back on top as one of SA's finest Syrah producers with this emphatic and classic release.

9. Opstal, Chenin Blanc 2017 – R 100
A string of Platter's 5-star accolades proves that Attie Louw of Opstal knows a thing or two about producing top-end Chenin Blanc. When we asked the price of the newly released 2017 Opstal Chenin Blanc, we knew we were on to a winner! It is the best value white of the year and could easily be double the price. This is not, however, a simple smash and grab wine. It is nuanced and when it opens up it expresses more finery and detail.