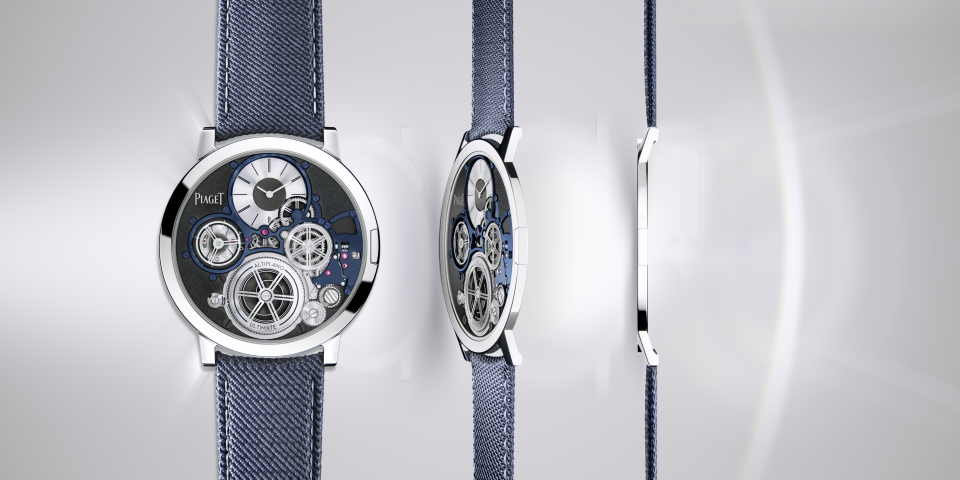 Swiss luxury watch and jewellery manufacturer Piaget has launched the Altiplano Ultimate Concept - the thinnest mechanical watch in the world
It was developed and produced entirely in-house by Piaget's Research and Innovation division. The watch is as thick as a one Euro coin and the same height as just two credit cards stacked together. Classical design dictates a standard four-layer construction: bezel and crystal; dial, hands and movement encapsulated in a case and case back.
In 2018, Piaget launched the Altiplano Ultimate Automatic which, at 4.3mm thick, became the world's thinnest gold watch. Too thin to use gold, the Altiplano Ultimate Concept case had to be made from a new, cobalt-based alloy.
Other parts were entirely re-engineered and re-sized. The mainspring barrel is also of an entirely new design that has no cover or drum but is mounted on a single, ceramic ball-bearing within the frame of the watch and enables the fully-wound movement to run for up to 40 hours.
In order to function perfectly, the conventional hour hand is replaced with a revolving indicator disc while the minute hand works in the usual way.
Piaget Limelight Gala watches
In 2020, Piaget is also presenting a host of new Limelight Gala timepieces in celebration of these iconic creations. Each piece follows Piaget's four pillars of excellence: The Art of Movement, The Art of Gold, The Art of Colour and The Art of Light.
The Art of Gold
Shimmering in the light, this new Piaget Limelight Gala Precious Sapphire Gradient (Ref. G0A45163) celebrates the signature design of the Limelight Gala collection with a hand-engraved gold bracelet and dial that are highlighted by 20 large diamonds (approx. 1.46 cts) and 22 blue sapphires (approx. 4.01 cts) set in a subtle gradient of blue. The dial is also made of white gold and is engraved using the same Palace Décor technique.
The Art of Light
The three new High Jewellery timepieces come in a 28 by 23mm case. One model adorned with a fully-paved bracelet set with 364 brilliant- and marquise-cut diamonds (approx. 12.42 cts, Ref. G0A45170), a second one set with both diamonds and blue sapphires (Ref. G0A45171), and the third one set with 237 diamonds and fitted with an elegant blue satin strap (Ref. G0A45168).
The Art of Colour
Three new aventurine glass models join the Limelight Gala collection.
There are two Limelight Gala Aventurine Glass Dial: a 32mm case (Ref. G0A45162) adorned with 63 diamonds (approx. 1.76 ct) and a smaller 26mm case version (Ref. G0A45152) with 57 diamonds (approx. 0.87 ct), both limited to 300 pieces each.
Another model, the Limelight Gala Precious Aventurine Glass Dial (Ref. G0A45180), is set with 57 diamonds (approx. 4.80 cts) using the Serti Descendu technique and limited to 200 pieces.