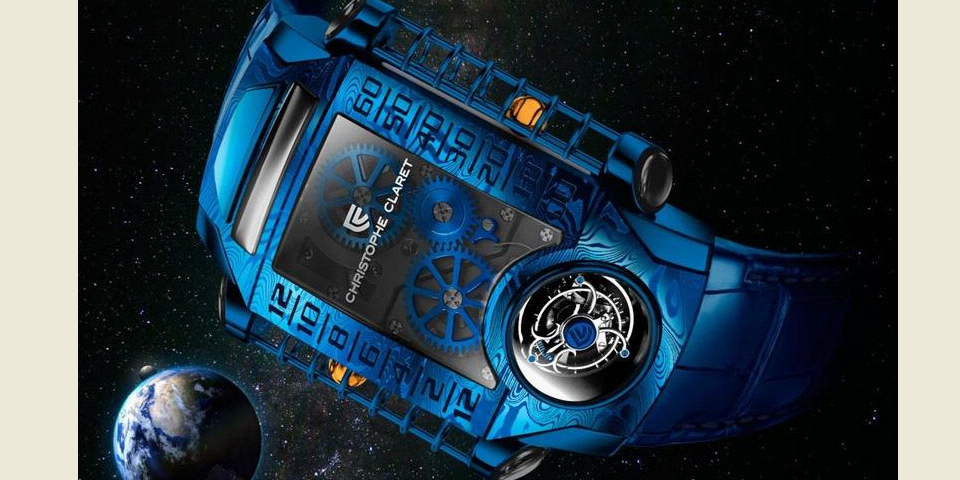 Four years after unveiling the X-TREM-1 timepiece, the watchmaker from Le Locle reveals two new versions in blue damascened steel, issued in 8-piece limited edition
X-TREM-1 represents a major technical and aesthetic accomplishment: a flying tourbillon inclined at a 30° angle, mounted on a three-dimensional curvex titanium main-plate, equipped with a retrograde hours and minutes display system that is radically different from existing watchmaking conventions. Two tiny hollowed steel spheres, isolated within sapphire tubes on the left and right sides of the caseband, magically move with no mechanical connection thanks to magnetic fields.
X-TREM-1 is a fine example of the approach that involves using a system driven by magnetic fields display the hours and minutes.
The many details that make a difference and contribute to giving this model its strength, the stainless steel sphere that have an ultra-hard orange treatment, contrasting the display of time by its bright colour. This X-Trem-1 edition is produced in an 8-piece limited edition.
Functions:
- Mystery hours and minutes displayed with indications provided by hollowed steel spheres moving 23 mm inside two cylindrical sapphire tubes. The metal spheres are driven by magnetic carriages following a thread.
- Seconds displayed on the tourbillon cage
- Movement state-of-wind indication
- Fast time adjustment is via an integrated pusher on the case-band at 12 o'clock
- Quick time correction per pusher at 12 o'clock (Tboard Key)
Christophe Claret Poker Watch
Poker is the latest addition to Christophe Claret's trilogy of gaming watches.
Users can immerse themselves in real three-player games of the most popular variant of poker: Texas Hold'em. This completely original automaticwinding in-house calibre comprises no fewer than 655 components, and features two mainspring barrels that provide approximately 72 hours of power. Poker is the very first timepiece that manages to replicate the game in an automaton watch.
Up to three players face each other around the watch. The first hand is dealt by means of a pusher at 9 o'clock. This winds up a spring, which simultaneously spins four concentric discs − one of which made from sapphire − on which the cards are printed. There is no way of speculating as to the position of the discs. After a few moments the discs are immobilised at random by dampers. All the discs are mounted on ceramic or ruby bearings so they turn as freely as possible.
Once the push-piece at 9 o'clock has been pressed, the now shuffled cards are dealt in windows at 6 o'clock, 10:30 and 2:30. An ingenious mechanism of angled shutters makes them invisible to the other players. After this first betting round, the pusher at 10 o'clock reveals the flop, i.e. three cards which appear on the left of the dial. Another push-piece at 8 o'clock then reveals the turn, one card on the right of the dial. Finally, the same push-piece deals out the river, also on the right of the dial. True to his mastery of chiming watches, Christophe Claret equipped Poker with a cathedral gong, which sounds whenever the flop and turn/river pushers are pressed. Now comes the showdown.
The dial of Poker is entirely made and assembled within Manufacture Claret and was designed to offer excellent legibility of both the time and the Poker game. This Poker is produced in an 12-piece limited edition. An exceptional timepiece, which, like winning a big game, is only for the lucky few.
Technical specifications and Functions:
- Hour and minute display
- 2 games: Texas Hold'em Poker game with chime, and roulette wheel
- Patented cathedral gong