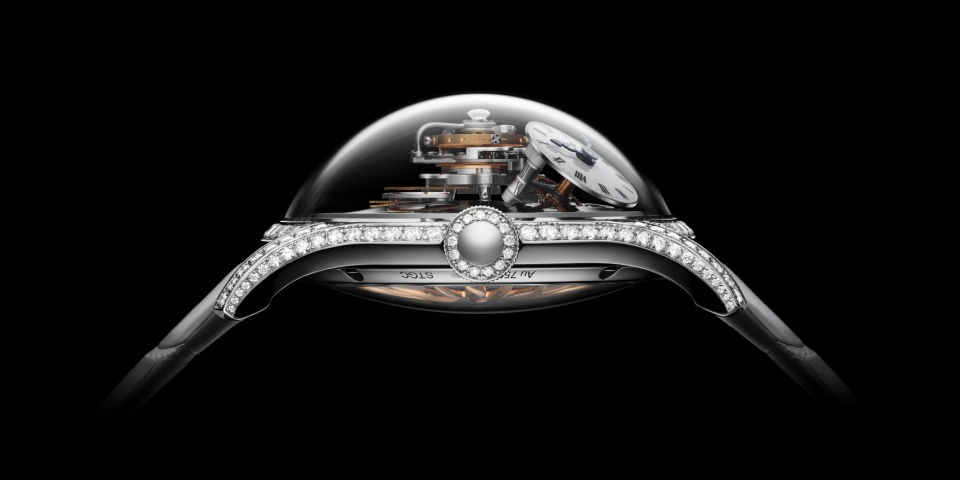 With 14 years of experience, MB&F has decided to step out of its comfort zone, creating a head-turning timepiece exclusively for women.
Celebrating 100 year since the first wave of feminism, the experts at MB&F have created the Legacy Machine Flying T - a diamond-covered watch taking inspiration from the women who have influenced the brand's founder Maximilian Büsser. "I created MB&F to do what I believe in, making three-dimensional sculptural kinetic art pieces that give the time; I was creating for myself," he began. "But at some point there came a desire to create something for the women in my family. I've been surrounded by their influence all my life, so I gave myself the challenge to do something for them."
On the topic, he continued, "I wanted LM FlyingT to possess the epitome of femininity as reflected by the women in my life, particularly my mother. It had to combine supreme elegance with tremendous vitality. The column-like structure of the flying tourbillon was very important to me as I felt very strongly that women form the pillar of humanity. There is another layer of meaning coming in from the sun-shaped rotor, which incorporates the element of life-giving, a source of sustenance which we gravitate towards and around."
Made with 17 components and housed under a flair-resistant glass dome, the Legacy Machine FlyingT incorporates sapphire crystals and a curved dial plate to create an attention-grabbing watch determined to be the centrepiece of any outfit. As an extra-elegant twist on the typical timepiece.The model is made with 18k white gold set with diamonds. Calf or alligator leather straps are also available, featuring an 18k white gold pin buckle set with (even more) diamonds.
Essentially, all of the watch's functionality is held within the model's miniature dial standing at a 50-degree tilt, which features quirky blue gold hands can be customised with a black or white (pictured above) lacquer.
There are three versions of the Legacy Machine FlyingT available: the Black Lacquer edition (set with 168 stones), the Pavé diamond edition (558 stones) and the Baguette diamond edition (124 stones); all of which feature diamond embellishments on the cast, buckle and crown.
For more information, visit the MB&F website.