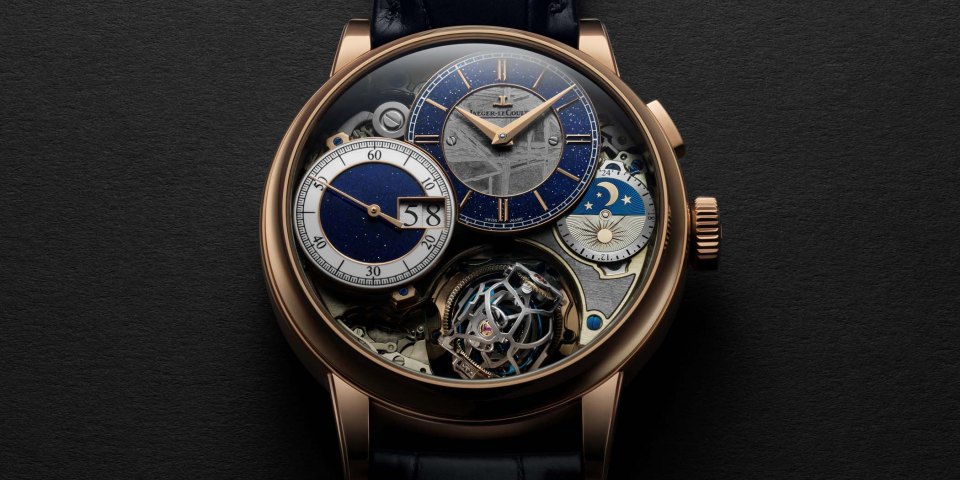 Encapsulating the core values of La Grande Maison, Jaeger-LeCoultre presents a new version of the Master Grande Tradition Gyrotourbillon 3, which marries the technical tour-de-force of its signature multi-axis tourbillon to the finest of artistic craftsmanship.
In 2013, Jaeger-LeCoultre first introduced the Master Grande Tradition Gyrotourbillon 3 to mark the Maison's 180th anniversary. Combining a third-generation interpretation of the Gyrotourbillon with an intriguing and highly unusual instantaneous digital display chronograph, it represents mechanical sophistication of the highest order.
But still, Jaeger-LeCoultre wanted to do more. And so, this new version of Gyrotourbillon 3 harnesses the exceptional skills of the Manufacture's Rare Handcrafts™ (Métiers Rares®) artisans to elevate the rare and precious timepiece to a new level. With various elements of the dial showcasing the traditional Rare Handcrafts™ of hand-guillochage, engraving and grand feu enamel, this new model introduces the rarely seen craft of meteorite inlay.
On the dial side, the intriguing geometric markings of the silvery-grey meteorite are complemented by the subtle glitter of deep blue aventurine and the glow of pure white grand feu enamel. This harmonious interplay of materials, colour and surface pattern is complemented by the warmth and richness of the pink gold case and dial details.
Found in Namibia, the Gibeon meteorite chosen for this watch is an iron-nickel alloy with an octahedrite crystal structure, formed by the cooling of the asteroid fragment in outer space over the course of billions of years before it crashed to earth in prehistoric times. The abstract geometric patterns of the intersecting crystal structures shimmer gently when the material catches the light, their irregular arrangement making every slice of meteorite subtly different from all others.
Hand-wound movement, calibre 176, incorporates a fully integrated chronograph, which displays the seconds on a traditional round dial and elapsed minutes on an instantaneously jumping digital counter.
Conceived and crafted for true connoisseurs of art and mechanics, the new Master Grande Tradition Gyrotourbillon 3 'Meteorite' represents the highest expression of Jaeger-LeCoultre's codes.