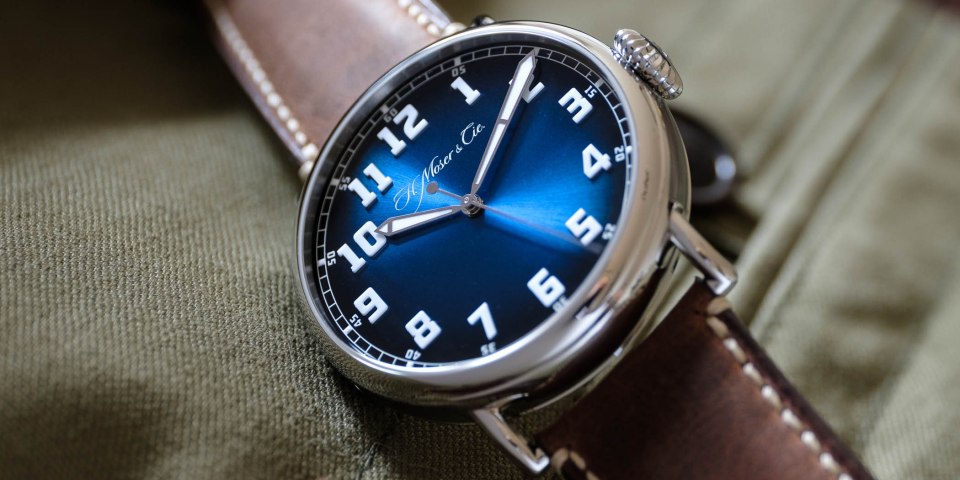 With elemental links to the H. Moser & Cie. brand, the Heritage Centre Seconds Funky Blue forges a subtle link between past and present, between tradition and modernity.
Reminiscent of the pocket watches converted to wristwatches in the early 1920s using fine attachments, this creation is largely inspired by vintage timepieces conceived by Heinrich Moser, founder of H. Moser & Cie. At the same time, it displays a resolutely contemporary character thanks to the use of innovative materials, notably Globolight®, a ceramic compound injected with Super-LumiNova®. A modern symbol of the Schaffhausen-based brand's vast heritage, the Heritage Centre Seconds Funky Blue perfectly represents H. Moser & Cie.: a modern manufacture with a history dating back almost 200 years.
In creating the Heritage line, H. Moser & Cie. took inspiration from the watches that evoke the brand's history from 1828 to the present day, and specifically those dating from the early 20th century. The Heritage Centre Seconds Funky Blue is a beautifully rounded model with classic touches.
Its steel case features tapered lugs and a notched crown. And, because tradition at H. Moser & Cie. never means dull or fusty, behind the classic façade of this watch lies an emphatically irreverent aesthetic, as revealed by the Heritage Centre Seconds Funky Blue's electric blue dial – one of the most popular Moser dials – which brings the entire design to life. The traditional railway style minute track is in white for a contemporary contrast, while the sword-shaped hands are highlighted with Super-LumiNova®. The oversized appliqué numerals recall the sports watches of the 1900s, but these use Globolight®, an innovative ceramic-based material containing Super-LumiNova® that can adopt any shape or colour.
To further break with traditional codes, the strap in raw leather features white stitching to add one last finishing touch to this creation. The Heritage Centre Seconds is an Haute Horlogerie piece that draws from a broader palette. It is a traditional yet timeless model in a steel case, which blurs boundaries and is impossible to sum up in a single word.