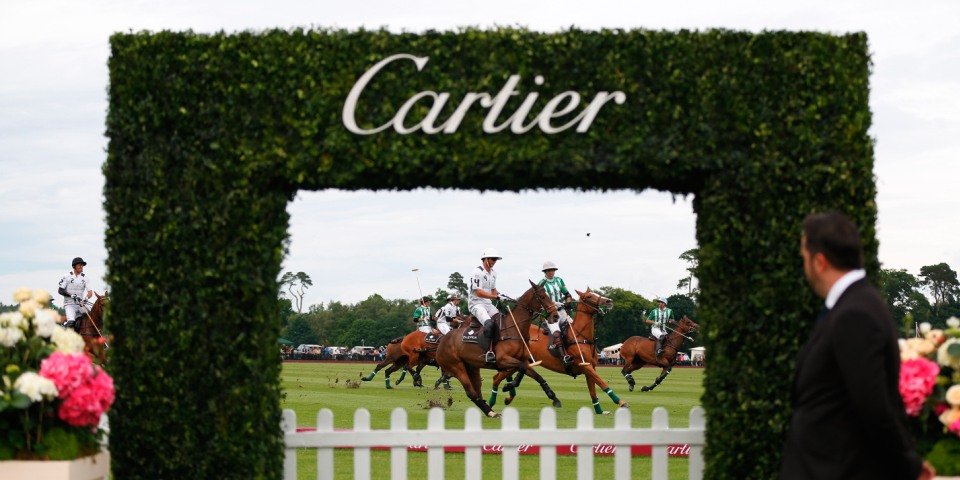 The world's best polo players, their fine steeds, celebrities, royalty... They descended on Guards Polo Club for exciting matches and, of course, a spot of socialising in the British sunshine
It's where the biggest names and the most influential personalities mingle with royalty, the Cartier Queen's Cup is one of the most sought-after sporting events in the British social
calendar. Forget Ascot – this is the crčme de la crčme of high society. And for the 300 privileged individuals on the much coveted Cartier VIP guest list for finals day, it was, again, an event to remember.
Ever since the Queen's Cup was played for the first time at the UK's Guards Polo club in 1960, the 22 high-goal tournament has become a popular social occasion for the rich and famous − and with good reason.
One of the top five polo tournaments in the world attracting society's biggest names, the Cartier Queen's Cup is also attended by members of the British Royal Family, including the Queen herself, who has been presenting the Queen's Cup trophy since 1960.
Indeed, HRH The Duke of Edinburgh and HRH Prince Charles have competed in the competition, with HRH Prince Charles winning the silver trophy for his team Les Diables Bleu in 1986. But the prestige around the Sport of Kings and the Cartier Queen's Cup in particular, is all the more intriguing when considering polo's origins in North Persia 600 BC when it started out as a training exercise for war.
Fast-forward a few thousand years and the sport is now a prestigious event across the world from Argentina to Santa Maria. The Queen's Cup especially, has become even more glamourous in recent years. So what brought about this transformation? What turned an already well-to-do sport into something even more lavish?

Annie Makoff-Clark

Read the rest of the article on page 71 of Issue 3 2017:http://www.elitelivingafrica.com/magazine-archive/elite-living-africa-3-2017