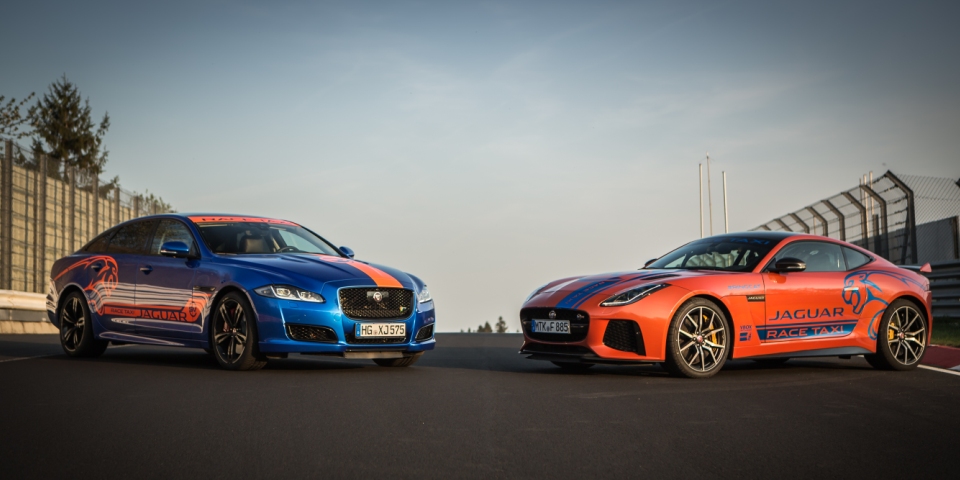 Performance car fans can now hail the ultimate taxi ride around one of the world's most renowned race circuits
For an exhilirating driving experience, the Jaguar Race Taxi offers a full-throttle hot lap in the Jaguar F-TYPE SVR and XJR575, around the famous Nürburgring Nordschleife circuit in Germany.
Jaguar Race Taxi passengers will be driven around acircuit by professional drivers, encountering cornering forces of up to 1.2g on the most challenging sections. They can also relive the excitement of their experience around the 20.83km, 73-turn 'Green Hell',with an HD video recording of their lap.
"A ride in the F-TYPE SVR and XJR575 Race Taxi is a thrilling and truly unforgettable experience for any car enthusiast – or anybody who just enjoys going very fast! Our highly experienced professional drivers are veterans of the Nürburgring 24-hour race, making them uniquely qualified to show customers the true potential of these extraordinary supercharged V8 Jaguars," said Phil Talboys, European engineering operations manager, Jaguar Land Rover.
The F-TYPE SVR has been designed by Jaguar Land Rover Special Vehicle Operations as a 322km/h all-weather supercar. The vehicle is powered by a 5.0-litre supercharged V8 engine with 575 horsepower (423kW) and 700Nm and benefiting from an enhanced chassis and driveline and active aerodynamics.

The all-wheel drive F-TYPE SVR delivers supercar performance – in all conditions – and can accelerate from 0-100km/h in just 3.7 seconds.
The Jaguar XJR575 is powered by a 5.0-litre supercharged V8 developing the same maximum power and torque as the F-TYPE SVR, it can reach 100km/h in just 4.4 seconds before reaching an electronically-limited top speed of 300km/h while delivering the luxury and ultimate comfort.