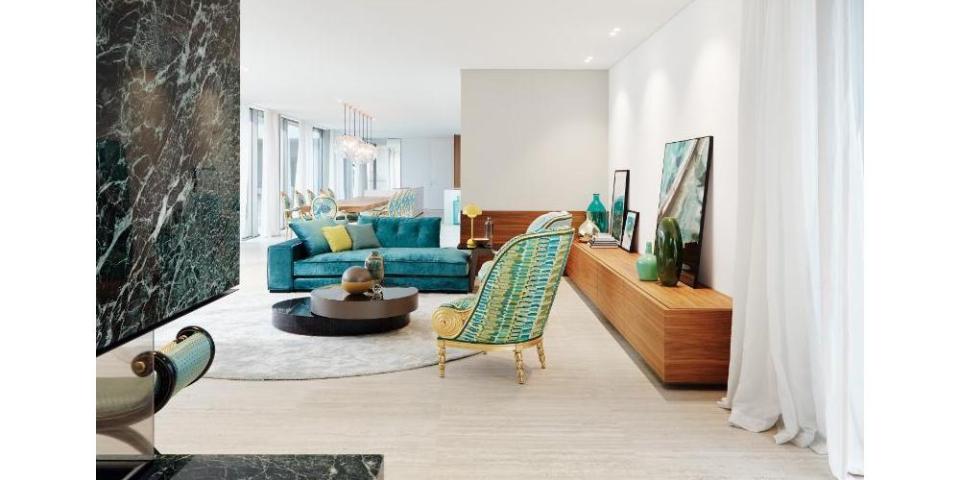 Classic atmospheres pervaded by a tasteful contemporary flair characterize Casino Royale by Angelo Cappellini, a collection that boasts a multifaceted personality reflecting the company's sophisticated and timeless elegance
An evocative palette in shades of cerulean and sapphire with some incursions of chartreuse is the leitmotif of the living scenarios, where the classic furnishings develop a modern appeal. In this original context, sinuous silhouettes coexist with unique details such as precious finishes and bold textiles.
A blaze of vivid colours and elegant refinement, Degas is a chair of gentle profiles outlined by a finely carved wooden structure. The textile upholstery wrapping the soft backrest and seat portrays an orientally-inspired exotic landscape enhanced by intense shades of colours.
Elegant stylistic suggestions identify a playful and embracing upholstered armchair. A piece of traditional beauty with a fresh new take on classics conveyed through the choice of a bold and lively pattern. It also features a finely carved structure, in gold leaf, that ends in a large spiral that reaches the height of the seat.
A modular sofa with an imponent silhouette takes pride of place in the convivial space.
A powder blue fabric dotted with a modern floral motif renovates the charm of the Baroque style embodied in the distinctive wooden structure enhanced by virtuous carved decorations illuminated by the gold leaf finish.
For more information, please visit page 16 on the latest issue