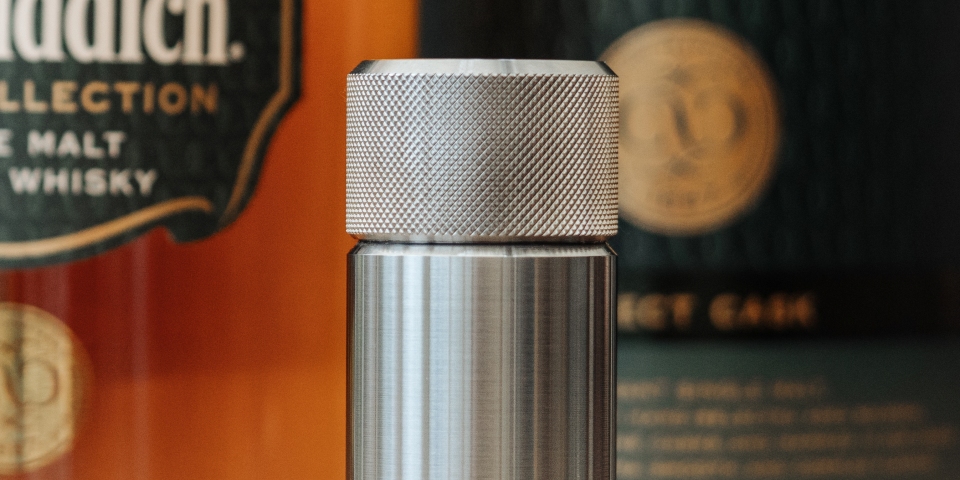 An upcoming name in the world of luxury men's accessories, Wingback has stepped away from the bounds of conventional design to create The 100ml Hip - a cylindrical spirit-store ideal for keeping a drop of Drambuie, a tipple of tequila or a sip of scotch on hand during your travels.
---
First established in 2014, Wingback's intimate team of designers has primarily channelled their efforts into created hand-crafted leather wallets. Now, the company has decided to expand their repetorie with The 100ml Hip. The flask is made entirely from stainless steel, adopting an unbroken design which fits perfectly in your hand, pocket or bag without commanding too much space along the way.
"The first issue we needed to address was how to get your drink into the flask without losing half of it overboard," a spokesperson for the brand recalled. Striving to resolve the downfalls of the hip flask's traditional narrow-mouth design, Wingback opted for an wide mouth more indicative of your run-of-the-mill thermos, minimising spillage while simultaneously cutting out any need for a funnel. The 100ml Hip is also fitted with a removable base, making it far easier to clean and removing the taste of stale spirits from your next drink.
Maintaining a travel-friendly capacity of a centilitre, the flask has been custom-made to be both large enough to enjoy with your friends, and small enough to enjoy by yourself. As icing on the cake, the bottom of the flask is fitted with a handy bottle opener, engraved with the hedonistic tagline (and iconic Arctic Monkeys song) 'one for the road'.
For more information visit the Wingback website.