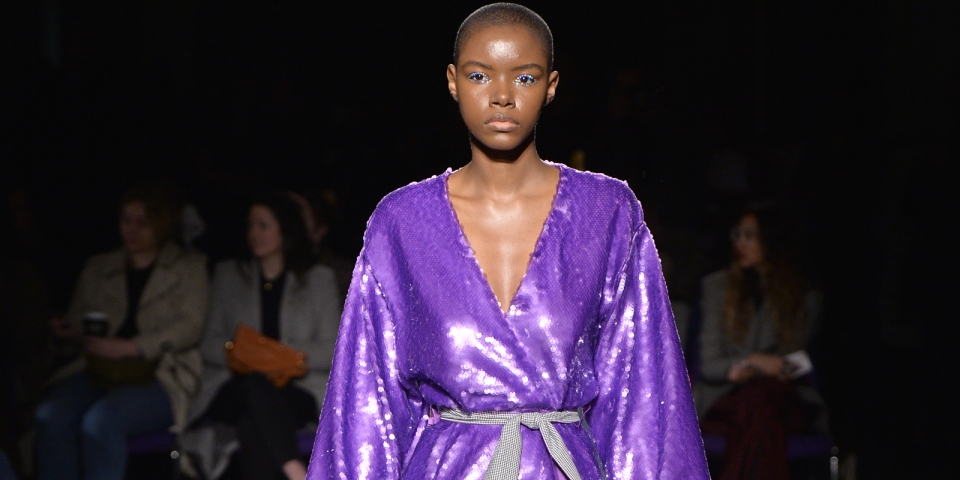 Natasha Zinko has unveiled its Autumn/Winter 2018 collection during London Fashion Week this month
Natasha Zinko's Autumn/Winter 2018 collection is a showcase of corporate uniformity, individuality and playfulness. It features a sombre palette of grey, black and white is reinvigorated with swathes of Pepto pink and pops of neon Citron. The pieces feature traditional houndstooth reworked into voluminous silhouettes or as an oversized print found on silk crepe de chine dresses.
The volume play continues via a new puffer coat worn as an oversized shirt and presents further hints of subversion via black patent leather.
For the woman who can have fun with what she wears and still be the boss - this collection ooze opulence and is shine, sparkle and ebullience. Feathers flutter on mini dresses and camisoles, while strapless lace guipure dresses are detailed with undulating layers of silk faille. Cyrillic intarsia re-interpretations written as Too Sexy/ ТУ СЕKCИ and Love Forever/ ЛАВ ФОРЕВА are worked into hand knit Italian cashmere jumpers and a shearling coat.
The collection can be accessorized with patent pumps are reimagined as exposed heel booties with just a hint of sexiness. The Lunch Totes come in plush shearling. Matrix-style glasses are a playful nod to a world of sci-fi uniformity. And the new demi-couture jewellery collection is a tongue-in-cheek, luxe spin on the oversized dollar sign medallion – reinterpreting it in 18 carat gold. After all, money still makes the world go round.