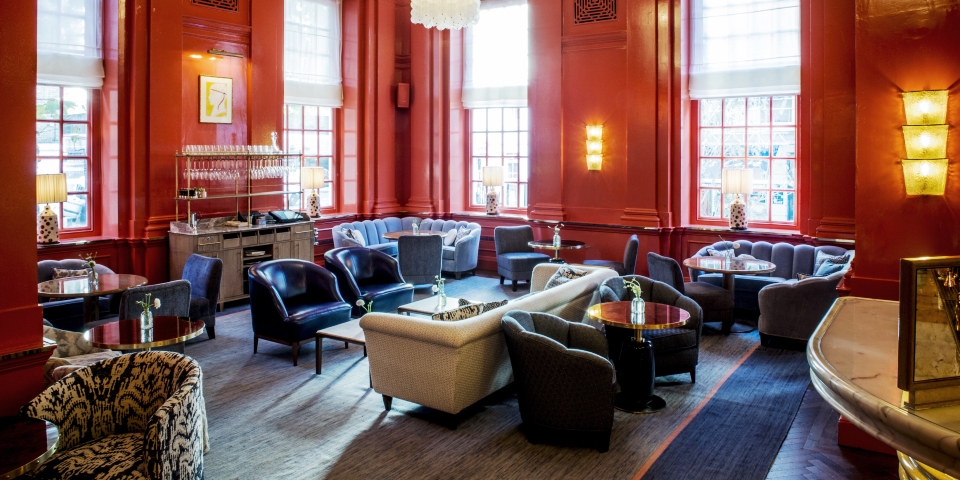 The Bloomsbury will relaunch on 23 November 2017 and will undergo a multi-million pound investment programme
The project will transformation will see the redesign of the public spaces of the Grade II-listed building, including a new reception area, guest sitting room, updated suites and chic new bar – The Coral Room. This bar and all-day-dining spot is located within a 2,100 sq ft double height space at the front of the hotel with bold new interiors and will offer up a range of delicious food options, English sparkling wines and and specialty cocktails.
The menu at The Coral Room offers guests many food options , whether its a healthy breakfast they are seeking, such as 'Garden Pea & Feta Smash on Sourdough Toast' or a simple traditional cream tea. A wide choice of wines and spirits are available from the bar menu, including a selection of innovative cocktails showcasing the bars country-meets-city concept. Some favourites are: 'Big Smoke' which includes range chili syrup, anchor eyes, quiquiriqui, chipotle tincture and ginger ale and 'Barbour and Barrel' created with Jim Beam Double Oak, honey, ginger syrup, pineapple juice, lemon juice, egg white.
A modern-day Bloomsbury set will emerge as access to the area rapidly increases with the arrival of Crossrail in 2018, making the journey to and from Heathrow and other parts of London even more accessible.
The Bloomsbury is just a stone's throw from Soho and Covent Garden and along with the rest of The Doyle Collection, is very much involved in the local area, which is highlighted via its 'Slice of the City' initiative and packages.
For more information visit: Doyle Collection