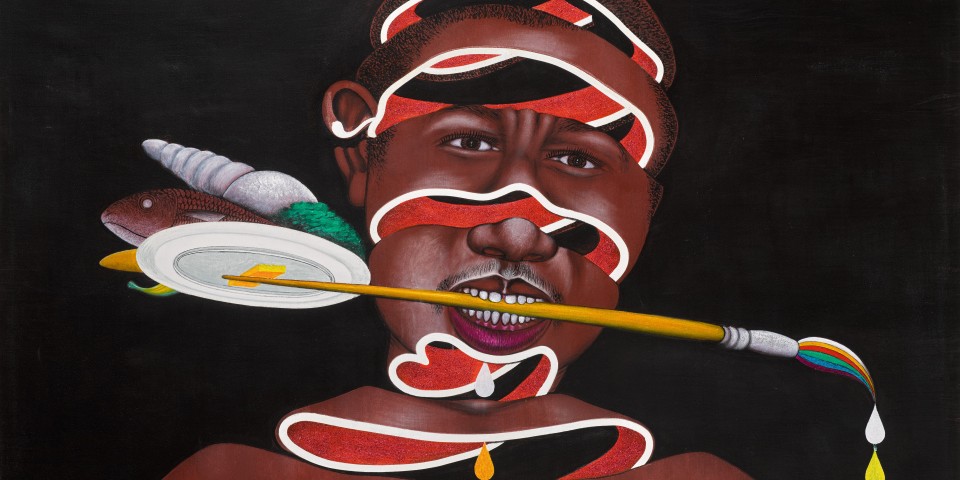 The auctioneers at Sotheby's have lifted the lid on the company's upcoming sale of modern and contemporary African art with the launch of a pre-sale exhibition in London.
First launched in 2017, the company's sale of modern and contemporary art series has achieved fifty world records, with last year's collection totalling at a staggering $3m and attracting collectors from 20 different countries across the globe. Among top-sellers was 'Obitun Dancer' by Ben Enwonwu, which sold for $265,744, and Ghanaian artist El Anatsui's 'Tagomizar', which climbed up the ranks to secure a $883,370 price tag.
Comprised of African paintings, photographs, drawings and sculptures, this year's event features pieces including Chéri Samba's J'aime La Coleur' (pictured above), with an estimated price of $51,648-$77,474; Hassan El Glaoui's 'La Sortie Du Roi', which is tipped to sell for between $103,296-$154,944; and 'Zebra Crossing 2' - a metallic tapestry marking the return of El Anatsui's work to Sotheby's with an estimated value of $710,160-$968,400.
"When it comes to Contemporary art, people are always looking for something new - a demand which absolutely lends itself to this genre," remarked Hannah O'Leary, head of department at Sotheby's."Spanning over 16 countries, a kaleidoscope of cultures and themes, and comprising the works of both established and emerging artists alike, our Modern and Contemporary African art auction remains one of the most exciting, innovative and relevant sales in the market today."
She continued, "African art has undergone something of a Renaissance in the past decade, signalled by rapidly developing interest from collectors across the globe. Indeed, over a quarter of buyers in last year's sale were from the African continent but the categories collector base spans Asia, Europe, Australasia and North America, and it is fantastic to see African artists surging to the forefront of international collections, both private and public.
Sotheby's pre-sale exhibition is on show until 2 April at the company's London auction house.