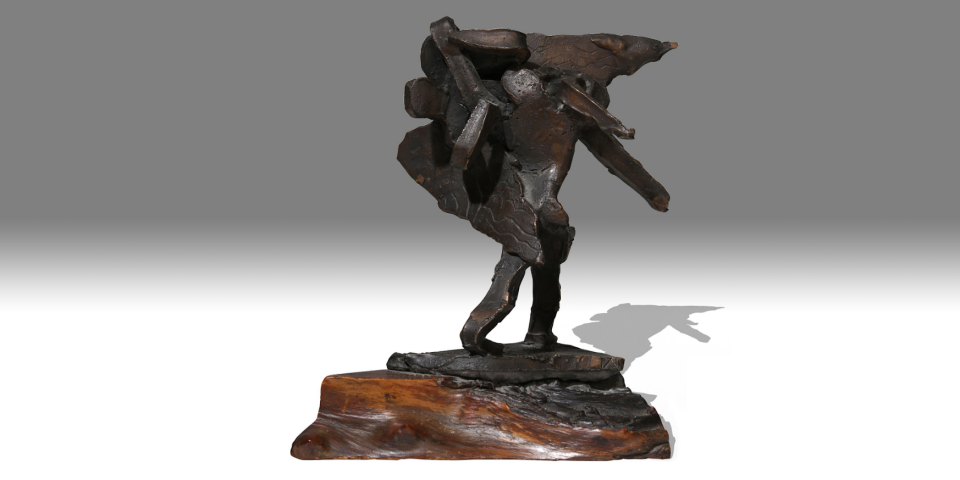 Chiswick Auctions will unveil ten works by the British sculptor, painter and craftsman Leon Underwood predominantly from his family's private collection, in its upcoming sale of Modern & Post-War British Art on 4 July 2019
​Considered as one of the founding fathers of modern English sculptures, Underwood used a broad spectrum of techniques and mediums to create different art forms.
Underwood's eclectic range of works derives from his extensive travels and exploration of many cultures. Two of the works being offered for sale are sculptural and were influenced by both his travels to West Africa and the study of Palaeolithic cave paintings in Spain in 1925.
Joy as it Flies is a bronze sculpture pertaining to William Blake's poem 'Eternity,' which expresses how joy cannot be obtained from material wealth. This theme was central to Underwood's moral principles and led him to follow his own private inspiration, rather than striving for commercial wealth. His versatility and constant evolution of the way he worked meant that he didn't have an instantly recognisable style, but his devotion to representing the human figure became central to his aesthetic and a recurring theme in his work.
The second bronze sculpture in the sale is titled Jacob and the Angel and depicts an extract from the book of Genesis where Jacob, who is regarded to be the Patriarch of the Israelites, was attacked and forced to wrestle with a stranger through the night. When his opponent realised he could not overpower Jacob, he blessed him for not abandoning the struggle, revealing himself to be an angel and messenger of God and renamed Jacob 'Israel.'