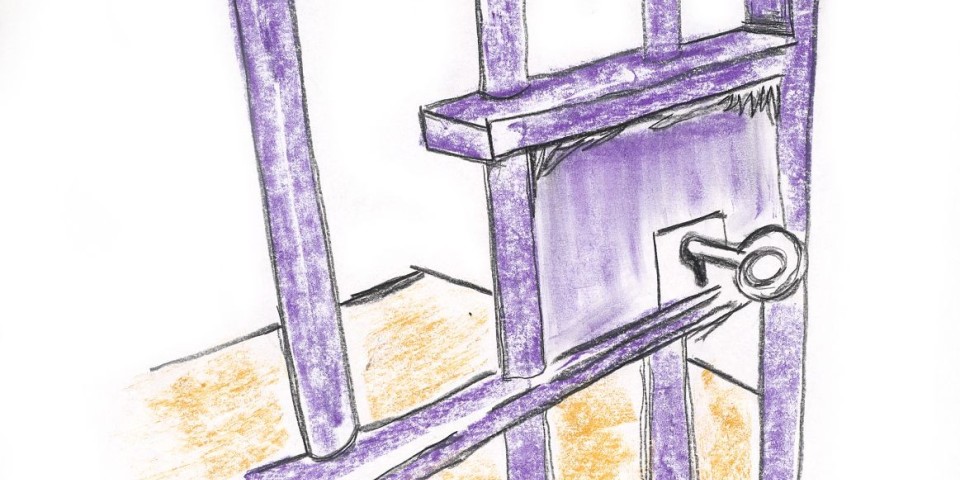 With an estimated price tag of US$60,000-90,000, a rare sketch by South Africa's former president Nelson Mandela will be up for grabs at Bonhams' Modern and Contemporary African Art Sale in New York.
Created by Mandela shortly after his official retirement in 1999 as a form of therapy, 'The Cell Door, Robben Island' was one of the few works the statement kept for his personal collection. The wax pastel crayon sketch was inherited by his daughter, Dr Pumla Makaziwe Mandela, after his death in 2013.
Mandela created a series of artistic works about his 37 year-long incarceration, including 'My Robben Island' and 'Reflections of Robben Island'. However, it is believed 'The Cell Door, Robben Island' was regarded as a personal image which he decided not to share in either of his emotionally powerful collections, as released in 2002 and 2003, respectively.
"The personal history and cultural gravitas that Mandela captured in this work is of great significance," said Giles Peppiatt, director of modern and contemporary African art for Bonhams. "Centred around the symbolic key in the lock, showing hope where previously there might have been none, the work demonstrates his indomitable spirit with characteristic honesty and clarity. This is the first time that a work by Nelson Mandela has come to market in the US, and we expect that it will resonate strongly."
Imprisoned on three separate charges of conspiracy to overthrow the state, incitement and sabotage, Mandela spent 18 of his 27 years served in cell number five of Robben Island, an isolated island off the coast of Cape Town. The prison has since become a pilgrimage of sorts to those inspired by Mandela's story, with American presidents Bill Clinton and Barack Obama visiting the island as a sign of respect to his life and legacy.
The Modern and Contemporary African Art sale takes place on 2 May in Bonham's Madison Avenue residence. For more information visit the Bonhams website.