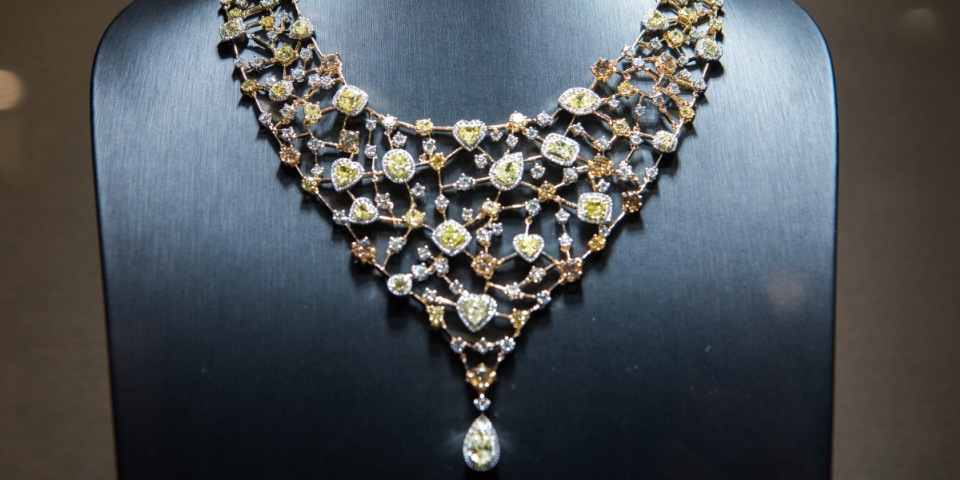 The exhibitors at VOJ showcased some of the current trends in jewellery design, including looks that are inspired by nature, a proliferation of coloured stones and a resurgence of gold in line with the re-emerging gold market.An expanding conference and exhibition highlighted new talent and trends for the global jewellery industry
Vincenzaoro, the gold and jewellery event which originated in the north-eastern Italian city of Vincenza, will be held in five cities this year – Dubai, Hong Kong, Las Vegas, Mumbai and Arezzo.The eponymous event in Vincenza which started proceedings for the 2018 edition of this dazzling event. It has been an important event on the jewellery trade show calendar for 60 years. Vincenzaoro January (VOJ) was divided into six districts. Icon was for global brands that fuse traditional craftsmanship with contemporary style, including Roberto Coin, Pasquale Bruni, Annamaria Cammilli, Leo Pizzo and Mirco Visconti.

Design Room District
Featuring 12 hand-picked designers from around the world, the Design Room section inside the Icon district was devoted to exclusive experimentation and creativity, a place where new market trends could be spotted and original pieces found. From Brazil, Fernando Jorge and Bia Tambelli were representing South American style. Italy was represented by Netali Nissim, Bea Bongiasca and Federica.
Rettore, and France by Noor Fares and Akillis. Other countries represented included the United Arab Emirates (Alessa Jewels), Turkey (Aida Bergsen), Singapore (Qayten), Spain (Magerit), and China (Kelly Xie).

Bea Bongiasca was one of the designers making her Vincenzaoro debut this year. Her No Rice, No Life collection blends East Asia and Western consumer culture and makes the point that rice is one of the most important resources in Eastern culture as well as being a symbol of life. The Happy-Go-Cola collection reflects the Mandarin synonym for cola which means "to permit happiness", as well as corresponding to the Japanese concept of "Kawaii", which translates as cute and adorable. Her Floricultural collection is about the secret language of flowers and the different meaning flowers have in different cultures. She looks to Hanakotoba, the Japanese language of flowers, where the tiger lily means prosperity, the heliconia means uniqueness and the honeysuckle stands for love ties. Her You're So Vine! Collection took inspiration from climbing plants, with shellac used to colourful effect.

The rest of the article can be read in Elite Africa Issue 3:
www.elitelivingafrica.com