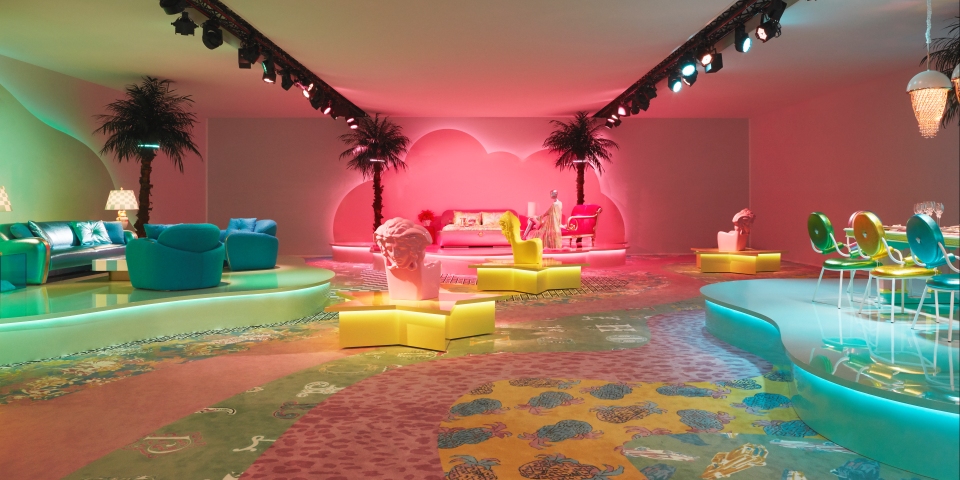 Known across the globe as a front-runner in luxury Italian design, Versace presented its Home Collection during Milan Design week with an eccentric exhibition in Via Gesù.
The exhibition was created as a collaboration between American interior designer Sasha Bikoff and Canadian artist Andy Dixon. Drawing inspiration from the brand's Fall-Winter 1994 campaign (featuring celebrities such as Cindy Crawford, Claudia Schiffer and Christy Turlington, as photographed by Richard Avedon), Bikoff incorporated Versace's classic motifs to the forefront of the exhibition's sets, positioning the 2019 Home Collection alongside a series of colourful nods to the brand's iconic imagery and patterns.
"I have always felt a deep connection to Versace as it embodies everything I believe in, a sense of fun and freedom to be daring," she explained. "Versace lives through colour and pattern breaking rules and promoting a sense of confidence and glamour which is how I decorate. Versace has always been a source of inspiration."
On the other hand, Dixon's recent exhibition 'Look at this Stuff Isn't it Neat' was also in display at Via Gesù, re imagining historic art in a Versace context to create two nine-by-seven-foot shirts, with a helping hand from the House's menswear design studio. Each hand-painted shirt is an ironic tribute to the brand's use of the emblematic Medusa head.
Speaking of the exhibition, Dixon explained, "I have always been drawn to Gianni and Donatella's work, especially the imagery used in patterns. There are a lot of commonalities between Versace and my own work: how we both plunder culture and art history, collaging tropes into new ideas, playing within the space where high and low-brow kiss."
Versace first ventured into the world of home-ware in 1992, growing to create a multitude of textiles, dinner sets, furniture and interior design projects encompassing the brand's passion for bold patterns and eye-catching creations.
Visit the Versace website for more information about the 2019 Home Collection.