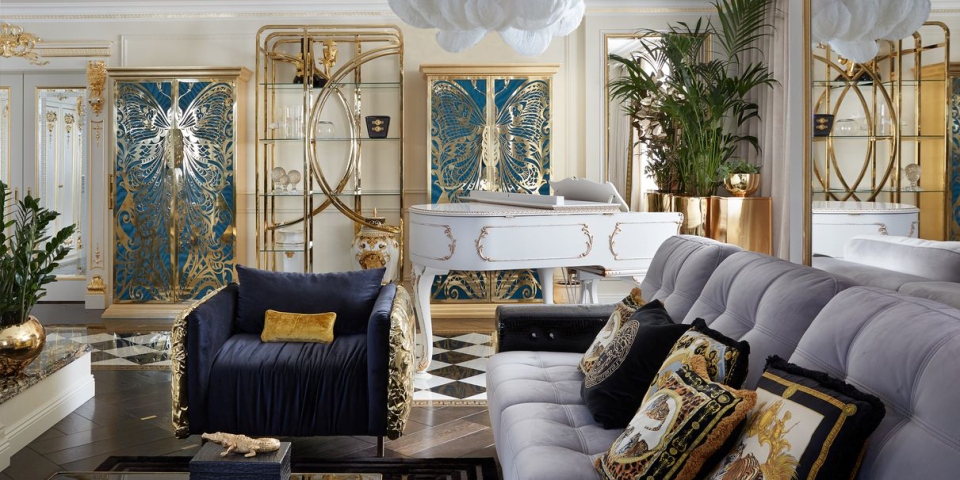 Determined to redefine the traditional home space for client Giya Eradze, director of the Royal Circus in Russia, Covet House has curated a collection of show-stealing centrepieces decked with gold, animals and the iconic patterns of Versace.
With emphasis on eccentricity, Eradze trusted Moscow's own Tatyana Myrono to fulfil the exuberance of Covet House's project. "Our people, especially those who grew up in the Soviet Union in the same soulless interiors, should be able to express themselves, show their individuality," remarked Myronova.
"We, as professionals, have to hear, understand and make a customer such an interior in which he will be driving, incredibly comfortable and cool," she continued.
The end result of Covet House's endeavour is a plethora of gold chandeliers, gold mirrors and golden stucco molding, embellished with the charismatic flair of rhinestones and animal-inspired designs to create an exuberant home the destined to turn heads.
In the living room Koket's elegant Mademoiselle armoire features delicate metal butterfly doors backed by fabric and a metal leaf interior for an exotic allure which - alongside the peacock-inspired Camilia armoire - makes for a fitting tribute to Eradze's love for animals, as well as his profound admiration for the French decorative arts.
Likewise, Boca do Lobo's Imperfecto golden armchair embraces the beauty of unpolished charm of artisanal work with an asymmetrical design, paired with satisfying smooth edges to complete the room's unapologetic tightrope-walk of sophistication and extravagance.
For more information visit the Covet House website.