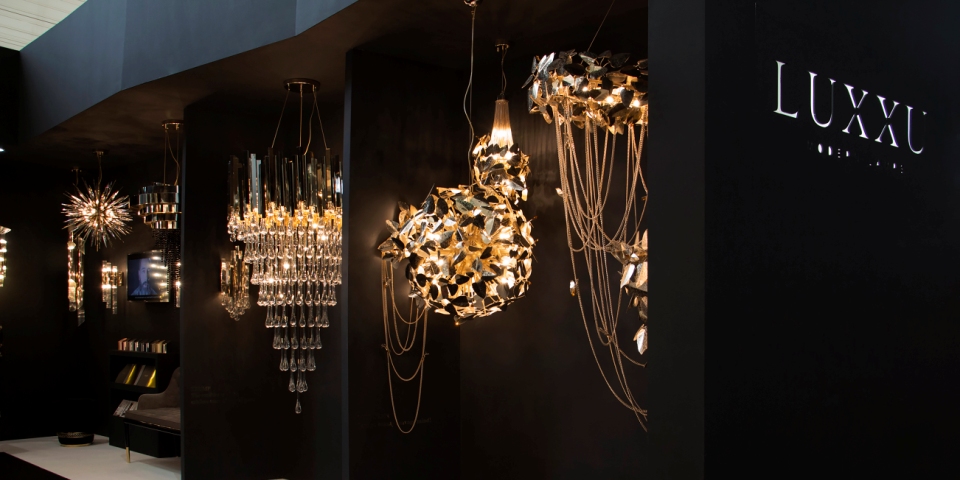 Luxury lighting brand Luxxu seized its time in the spotlight at Euroluce to showcase its entire collection of lighting, known as the Supreme Collection.
Taking place at the 58th edition of Salone del Mobile.Milano, international lighting exhibition Euroluce has been the home of innovative lighting solutions since 1976. However, this year marks the first time Luxxu has brought items from all collections to the event, including its four-metre-tall crystal chandelier, the Empire XL.
Inspired by New York's Empire State Building, the Empire XL stands as the centrepiece of Luxxu's Empire Collection, turning heads with its stunning gold and crystal glass motif. The chandelier weighs a staggering 300kgs (as much as a speedboat, a tiger or five Kylie Minogues, according to The Telegraph), and is available with gold plated, brushed brass, nickel plated, brushed nickel, black nickel plated, brushed black nickel, aged brass, copper plated and brushed copper finishes.
Moving away from the bustling heart of The Big Apple, Luxxu's Pharo Collection takes inspiration from the home of ancient Alexandria's grand lighthouse, created around 280BC. First showcased at Maison et Objet at the beginning of this year, the collection includes intricately designed chandeliers, as well as table, floor and wall lamps designed to evoke the purpose and hope of its long-since-extinguished muse.
Named after the iconic fashion designer, the McQueen II featuring regal embellishments of brass leaves, handmade butterflies and amber Swarovski Crystals for a bold and feminine finish reminiscent of McQueen's dramatic flair.
The luxury lighting brand also took its opportunity at Salone del Mobile.Milano to launch a series of homeware items. Among Luxxu's latest additions was the gold and tortoiseshell Ocadia Armchair, the two-metre Athos Mirror, the vintage-inspired Waltz Valet Stand and the Shield Mirror, based on the mythological shield of Achilles. The brand also launched its outdoor collection with the unveiling of a Carrara marble table, perfect for tackling the elements in any climate.
For more information, visit the Luxxu website.