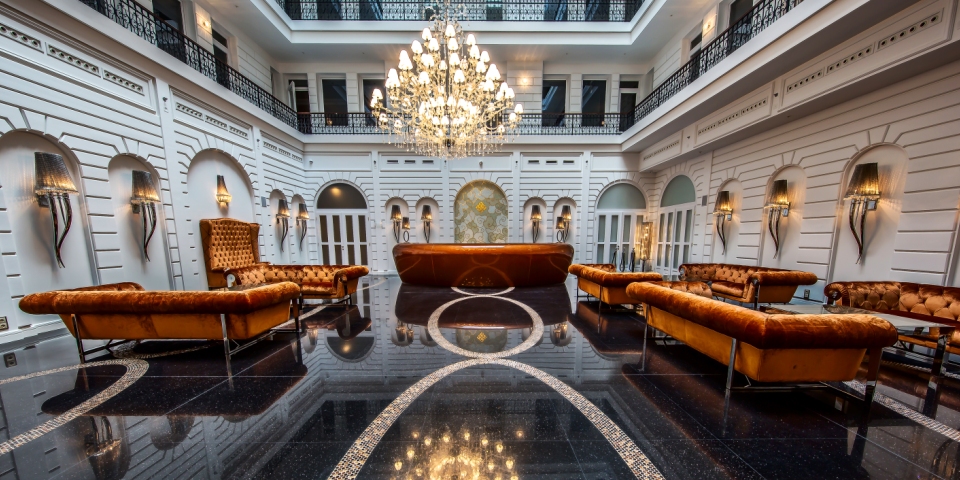 Visionnaire undertakes the installation of a lobby at the Hotel Prestige boutique hotel in Budapest, Hungary
The project led by Architect József Hild, involved the restoration of the historical façade of the building, and the interior design team composed by Virág Vörös, Csilla Sáfrány and Tünde Bagyinszkiné Bacio. The result is breathtaking: a combined style between vintage and modern, innovative, precious and exclusive. True "place to be" of the Hungarian capital city, Hotel Prestige offers a relax centre, a conference room and one of the best restaurants
Bringing together vintage and modern styling the hotel offers a relax centre, a conference room and, "Costes", the first Michelin-starred restaurant directed by Károly Gerendai and chef Miguel Rocha Vieira.
The project's aim was to bring a contemporary luxury design to the hotel provided by a vast luminous closed space, with an interior design characterized by a symmetrical composition which gives a contemporary luxury perception: "dilated" furniture surrounded by natural lighting, where the luxury element is in the geometric matrix of the spaces and in the preciousness of the materials used.
Beautiful lighting pieces were chosen among the designs created by Alessandro La Spada and Philippe Montels: "Brunilde" Appliques in steel and "Excalibur" floor lamps in aluminium illuminate the bright orange velvet "Chester Dudley" sofas designed by Maurizio Manzoni and Roberto Tapinassi.
The pieces that were carefully chosen embody luxury, style and quality - the core values within the Visionnaire brand philosophy. This project such as others carried out by Visionnaire have been designed with VIP international clients in mind. This makes Visionnaire an ideal partner for residential and contract proposals or a solution to furnish yachts and jets.