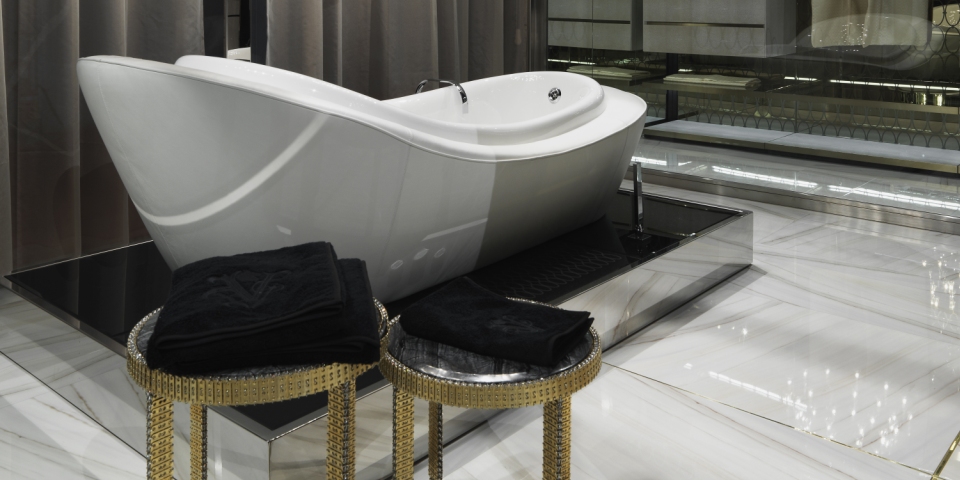 Visionnaire unveils 'The Relax Room' collection, an elegant bathroom area that provides a relaxing sanctuary dedicated to wellness.
Forma Mentis Basin
The Forma Mentis Wash Basin from Visionnaire offers a relaxing wellness area designed by Simone Micheli, inspired by neoclassic statues
The floor storage unit features structure in MDF with shiny polished lacquered finishing. The drawer features a push-pull opening with lacquered stainless steel logo.
The main structure is in stainless steel, diamond shaped and separated from wall by a shiny stainless steel frame. The central part of the mirror built in the structure. Back frame with LED lighting.
Dioniso Bath tub
In the bathroom as in a living room, Visionnaire presents the bath tub in an water-repellent leather designed by Samuele Mazza. The structure is in painted steel with surface in marine plywood.
The bath tub in acrylic resin features a steel structure with padding in polyurethane and has been designed using waterproof leather featuring the Visionnaire logo.
Marienbad
The Marienbad wellness area is designed by Alessandro La Spada and Samuele Mazza is a linear elegance but with a special attention to the detail. It offers a single wash-basin console with mirror.
The structure uses plywood with bevelled border workmanship, featuring external shiny lacquering water-repellent finishing. Internal and shelf matt lacquered.
Visionnaire presents a mirror framed in plywood with shiny lacquering water-repellent. Bowl shaped basins above plane in ceramic is personalised with the Visionnaire coat of arms; available in different versions. It uses a water-repellent finish and offers external shiny lacquering.
Grimilde Basin
The Grimilde basin designed by Alessandro La Spada is inspired by the famous quote, "Mirror, mirror on the wall, who is the fairest of them all?".
The structure in curved and shaped MDF with shiny polished lacquering and bevelled top. It uses stainless steel under-top frame for legs fixing, with shiny gold Visionnaire oval decoration. Shiny brass legs are featured with shiny golden finished oval plates and Visionnaire coat of arms.
The golden lacquered frame features a bevelled mirror, perimetral band, all backlighted, and with a sanded coat of arms.