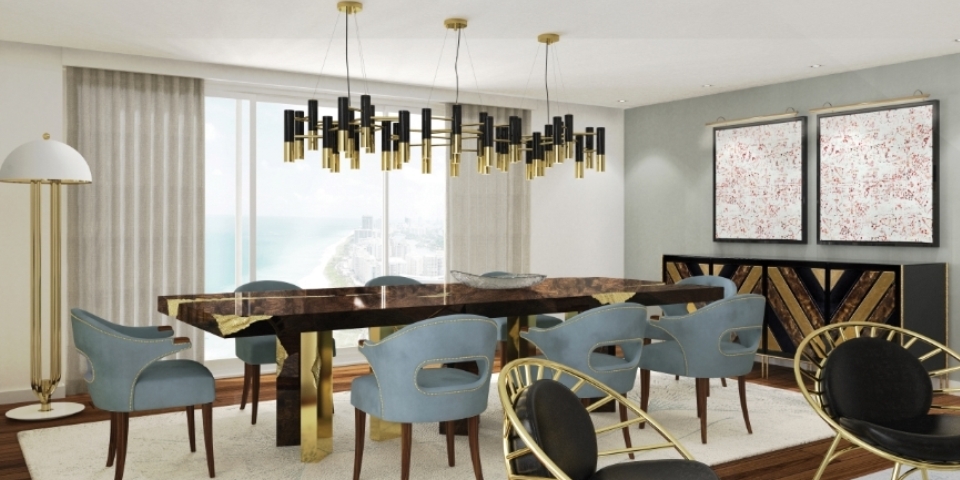 Covet House has unveiled a new apartment project that features furniture pieces from some of the world's most beloved and prestigious furniture and lighting brands
The brands include Boca do Lobo, DelightFULL, Brabbu, Koket, Essential Home and Luxxu.
A mix of black and gold shades gives this apartment a modern twist, offering a mixture of styles: vintage pieces can be found with modern elements. Contrasts of soft with strong, feminine with masculine – bring this apartment to life.
The apartment showcases a huge mid-century bookcase by Essential Home. Blake, a modular shelf system from Covet House, easily customizable to any measures needed. The specially designed marble doors with a lightweight core convey solidity and looks to this glaring piece. The warm solid walnut core is held steady by the flashy modular brass structure creating a stunning combination of materials.
The design of the Como Sofa, a velvety grey sofa by Brabbu, is reflective of Lake Como, in Italy, is known for its dramatic scenery. Inspired in its typical water lilies this piece, totally made in cotton velvet, is a tribute to natural beauty. Two Turner Chandeliers by DelightFULL, inspired by Tina Turner's dance moves, creates an art deco shape with the possibility of rotating its arcs into the desired position, allowing you to create your favorite composition whenever you want.
A lot of gold features throughout the apartment giving it a luxurious feel, and while with all its grandeur, the decor also adds a precious and feminine touch to the decor.