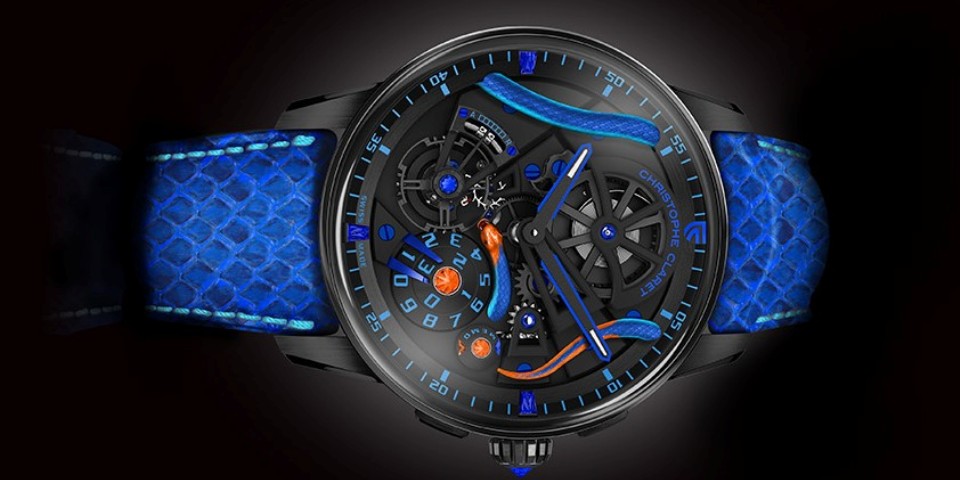 For the fourth consecutive year, Christophe Claret is taking its place alongside the Monaco Association against Muscular Dystrophy (AMM) and donating a timepiece to Only Watch for its eighth edition: Maestro Corail, a formidable timepiece by nature
This altruistic momentum has driven Christophe Claret to take an authentic artistic approach in giving life to the Maestro Corail watch. Inspired by the Maestro Mamba watch that is part of the collection, this timepiece is unique, resulting from a blend of fine craftsmanship and aesthetic creativity.
Christophe Claret is a born provocateur, now venturing into the perilous wilds of the tropical forests by placing the voluptuous undulations of a coral snake at the heart of the Maestro watch.
In terms of horological complications, the Maestro Corail once again illustrates the creative audacity cultivated by Christophe Claret. Witness the patented large date display at 5 o'clock, composed of two cones – one for the tens on the upper part and the second for the units – and performing a semi-instantaneous jump between midnight and twenty past midnight.
As if to echo the 3D effect of this voluminous date display, the Maestro's characteristic MEMO function appears between 3 and 4 o'clock. Inspired by the expression "tie a knot in your handkerchief" to help one remember something important, the MEMO is an ingenious mechanical reminder intended for absent-minded individuals as well as fans of technical gadgets.
Whatever daily objective the owner of the Maestro has set himself, the MEMO is there to remind him of his commitments. In the initial position, meaning when the owner must do something, an orange sapphire appears at 6 o'clock on the side face of the MEMO, like the gem set at its top. Once the objective has been met, a simple press on the pusher at 2 o'clock pivots the MEMO function, which will display a blue sapphire on its side face at 6 o'clock. The MEMO will return to its initial position each night in a twenty-minute process driven by a semi-instantaneous jump system.