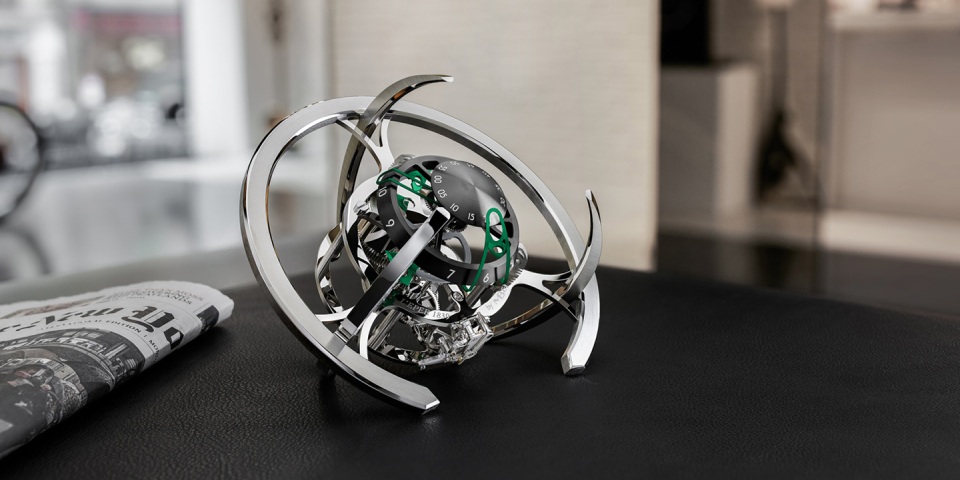 Designed by MB&F, the Starfleet Explorer is an intergalactic spaceship-cum-table clock crafted by L'Epée 1839
Apart from displaying hours and minutes, it features an animation in which three spacecraft perform a five-minute orbit of the station.The highly visible, superlatively finished in-house movement boasts eight-day power reserve. The mechanism can be manually wound using a double-ended key serving to wind the movement as well as to set the time.
Hours and minutes are indicated by means of two discs, along with an aperture and a brightly-coloured hand. The hour disc placed just below remains motionless. An hour hand – likewise satin-brushed and anodised – indicates the hour by spinning in its place and performing a complete turnaround the disc in 12 hours.
Starfleet Explorer also features a new element in the form of three tiny spacecraft, lined up along the same axis at regular intervals and placed inside the actual Starfleet movement, around which they revolve at a rate of one full turn every five minutes: a space exploration guided by the mothership.
Starfleet Explorer is launched as three limited editions of 99 pieces each in blue, green and red.
The Starfleet Explorer is a table clock, featuring essentially the same mechanisms as a wristwatch, only larger: gear train, mainspring barrel, balance wheel, escape wheel and pallet-lever. L'Epée 1839's regulator also features an Incabloc shock protection system, something generally only seen in wristwatches, which minimises the risk of damage when the clock is being transported.
Arnaud Nicolas, CEO L'Epée 1839 explains: "It's not just a case of double the size of the components, it's double the time it takes to finish them. The complexity increases exponentially."
Display features:
Minutes: indicated by a fixed curved aperture on the mobile upper dome, performing a complete rotation every 60 minutes.
Hours: indicated by a mobile hand, performing a complete rotation every 12 hours on a fixed disc.
The material used for the main structure is stainless steel and hand-lacquered polymer for the three spacecraft. The collection is based around three themes: creative art, contemporary timepieces and carriage clocks.
All models are designed and manufactured in-house. Their technical prowess, combination of form and function, very long power reserves and remarkable finishes have become signature features of the brand.