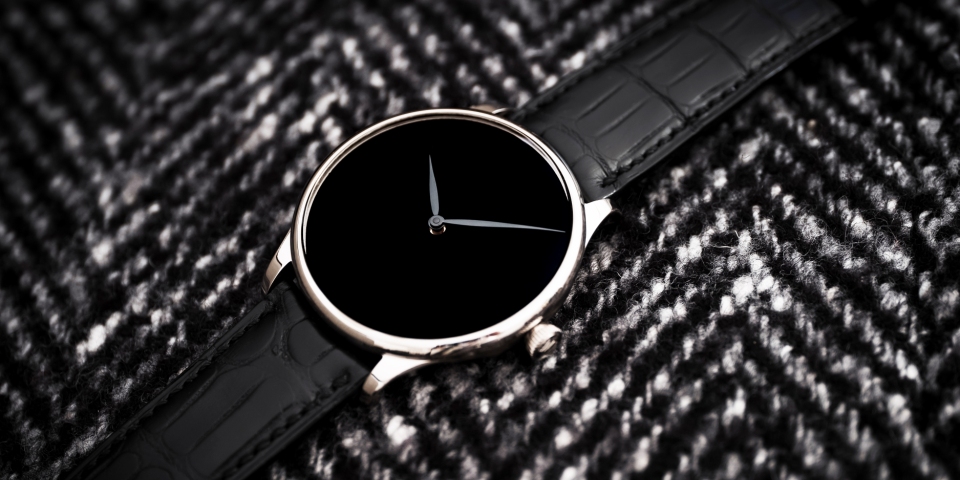 H. Moser & Cie. has launched a new online sales platform for global audiences and to celebrate the launch of this platform, the manufacturer has created three special edition Vantablack watches.
H. Moser & Cie. showcases Vantablack on the dial of its Venturer Vantablack Black Hands, available in a choice of two diameters (39 mm and 43 mm for the XL version), and its Endeavour Tourbillon Vantablack Black Hands model. With neither logo nor indices, this dial is the manufacture's ode to minimalism and understatement.
Vantablack is the blackest black ever produced by artificial means. It consists of carbon nanotubes that are 10,000 times finer than human hair, aligned vertically with each other. When a photon hits Vantablack, this material absorbs 99.965 per cent of the light. The look is captivating with a "black hole" effect and a velvet-like surface.
Interestingly, this whole black-on-black concept began as an April fool joke in 2019, when the manufacturer posted photos of black dial watches with "invisible" black hands on social media. As the brand received numerous requests for the watches, they ended up taking it seriously.
These three watches are available as on H. Moser & Cie.'s new e-commerce website, with a broader selection of other new watches – Endeavour Perpetual, Pioneer, Swiss Alp or Heritage – and also certified pre-owned watches. For more details, visit www.h-moser.com