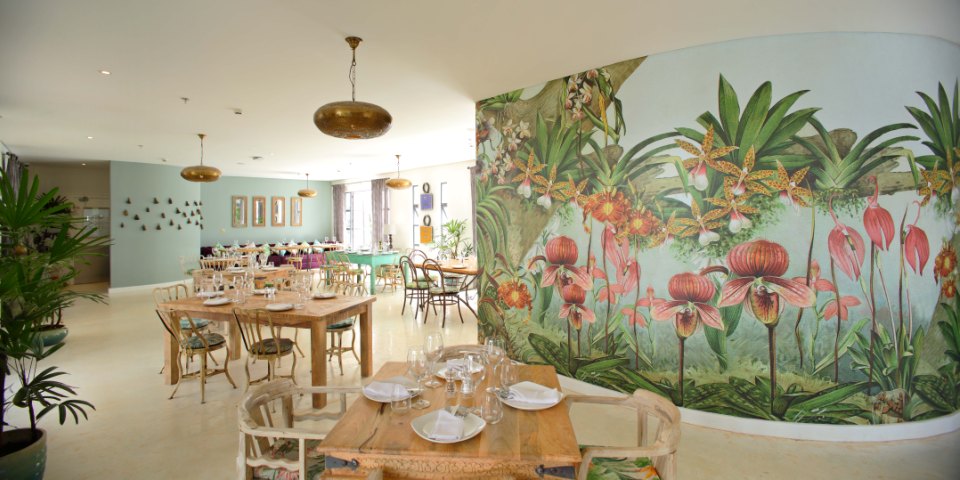 While Kampala has long had an established five-star hotel scene, an up and coming hospitality company has spotted a gap in the market - the high-end boutique hotel. Latitude 0 sets itself apart from chain hotels with its commitment to art, design and evolving fine cuisine
There is certainly something comforting about the familiarity of a chain hotel but the Latitude group seeks to attract the guest who is adventurous, creative and imaginative, while still seeking comfortable luxury accommodation.
Latitude 0 is the latest of the company's hotels to open in Africa – it already has properties in Lusaka (Latitude 15) and Lilongwe (Latitude 13) and there are plans afoot to open in Addis Ababa and Pamplemousse, Mauritius. The 47-room Kampala hotel is located high on a hill in the Makindye neighbourhood, 45 minutes from Entebbe Airport and around half an hour to an hour's drive from the Ugandan capital's business district, depending on the time of day.
What is most striking about Latitude 0 is the respite it offers from the bodaboda-laden streets of Kampala while still feeling very much connected to the city and its people. The views from the hotel across the city are stunning and, for first-time visitors to Kampala, an excellent way to get your bearings and decipher the lay of the land. And for those who are familiar with Kampala, the hotel offers a fresh new perspective on the city.
The long-established trees are a special feature of the hotel - with the hotel built in a manner that respects these trees, the feeling is instantly one that is clean and green. Rich foliage was so close to my hotel room window, I could almost touch them and they provided an excellent frame for many a stunning sunset photograph. While a hotel in the middle of Kampala may only provide you with views of other buildings, Latitude 0 is a refreshing reminder that Uganda itself is a country of true natural beauty with its rich greenery visible from the air before the plane even touches down in Entebbe.
Inside the hotel, one of the most magical features is the art and objet d'art. Everywhere you look, there is something interesting to look at, whether it's a painting, a mirror, an item of eclectic furniture, a sculpture or even the divine chandeliers in the rooms and as you enter the hotel. This is no accident. The fascinating pieces were handpicked by Susie Lightfoot, wife of James Lightfoot, one of the founders of the business. Susie's company, Kutundu, is a fair trade initiative which launched to help women who are AIDS orphans create high-quality sustainable home decor items. This has now expanded to incorporate creative ventures from across Africa, such as the splendid modern chandeliers throughout the hotel which are made of recycled beach glass. Nicholas Best, commercial director for the Latitude group, told Elite Living Africa that the unique artworks across the hotels serve as talking points for guests.
My room was a top floor stunner - ideal for the aforementioned sunset snaps through the trees. I am not a morning person but the dawn-breaking shots were too good to resist. The bed was enormous, sumptuous and comfortable and the pale turquoise beach glass chandeliers which rained down from either side of the bed were blissful for reading in bed. There was a mirror which doubled as art with its brightly coloured frame and beyond incredible wooden doors was a bathroom in a style best described as minimalist Moroccan. The elegant patterned tiles were just enough adornment alongside a generous walk-in shower and a sleek and generously proportioned bath.
For leisure, the hotel has two pools and supremely comfortable sunloungers, again located in such a way that guests can appreciate the panoramic views. And for those seeking extra physical activity, one of the best-equipped gyms in Kampala can be found on the top floor – again, making the most of the views. There is a yoga terrace where the sun can be saluted in style, including another of the property's glorious trees, a wonderfully knotted tree around which the building was created so it would not be disturbed.
The spa, meanwhile, pampers guests with all-organic products and the restful pale turquoise decor and generous massage tables (rather than the precariously narrow tables that are seen all too often, even at high-end hotels) whisper relaxation.
Downstairs, the stylish bar and restaurant area offer an interesting range of dishes thanks to a creative head chef who constantly seeks to improve on the taste, ingredient combinations and all-important presentation of every meal. The unique menu fuses local specialities and ingredients with inspirations from Europe, the Far East and the Middle East – it is a menu that defies being pigeonholed and that is a good thing. During my stay I tried almost every main course dish on the menu and, while it was all absolutely delicious, the pork belly remained my favourite.
Of the desserts, I could not resist the rich, creamy chocolate mousse with delicate balls of vanilla ice cream on multiple occasions. While there are popular fine dining establishments in Kampala, it is easy to see why a guest could simply choose to have dinner every night at Latitude and then repair to the comfortable, opulent bar for exquisitely created cocktails or the simple pleasure of a few gin and tonics served by polite and cheerful staff.
For business travellers seeking stylish spaces for getting some work done, holding meetings, making private calls or even holding events and setting up long-term office space, The Works is a special feature. The concept started as a side business in the Lusaka hotel and has been rolled out across all properties.
"Originally we launched a private members' club but that didn't quite take off in Lusaka," Nicholas said. This led to the company rethinking the concept and turning it into working, socialising and networking spaces that do not disturb the hotel guests and The Works was born. The Works, which started in the Lusaka hotel, has attracted a range of businesses and organisations who use the spaces on a long-term basis, as well as being used by hotel guests as a space to work away from their room. There is also a boardroom that manages to be formal and relaxed at the same time. You might even look forward to a meeting...
"Last year The Works' vibe came together and we went from 40 per cent occupancy to 90 per cent occupancy by the end of 2018," Best said. "We have a different mix of characters in there, such as investment organisations, the American Chamber of Commerce, NGOs and consultants with a female empowerment project."
"Everyone wanted to be seen at Latitude," Nicholas said of the large numbers drawn to the hotels when they opened. The popularity has not waned and he said the hotels have become "hubs for networking … this is something a little bit bigger than we first thought … We have a great product to sell, we are pushing the boundaries and we are very true to the sustainability philosophy."
On our tour of the hotel, Nicholas showed me spaces that can be used for events, particularly an art deco-inspired screening room. Guests can use it for relaxed movie-watching and Nicholas has compiled a collection of classic films for this purpose – and it can be used for presentation, small film screenings and corporate events, complete with glass doors that open out to a terrace where the party can spill out.
The games room, complete with retro board games and a bespoke chess set, as well as a leather-bound whisky lounge also provide spaces for guests to chill out and for business to be done. And therein lies one of the big attractions for Latitude 0 – it can adapt to cater for a range of guests.
The leisure traveller can experience the best of Kampala, the business traveller can be productive when required and relax when it's time to switch off and wind down, and all guests can appreciate the artwork which is seen at every turn, enjoy personalised service and feel truly special knowing the design of their room, complete with its own decorative touches is unique while still being comfortable and luxurious.
For visitors coming to Uganda for a safari, especially after a long flight or one that lands at an anti-social hour, a night or two at Latitude provides a soft landing – an opportunity to clear heads, get into the safari mindset and ensure they are refreshed and ready for the adventures that lie beyond the Ugandan capital.