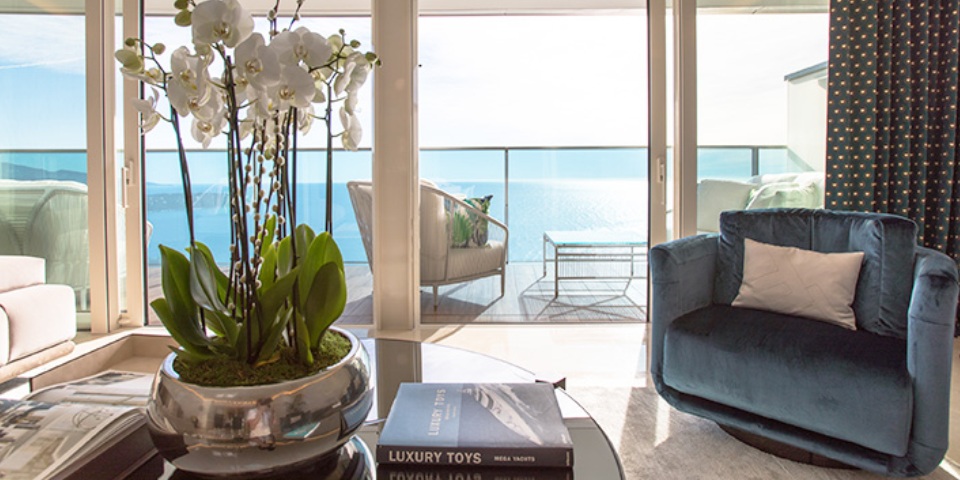 Sabrina Monte-Carlo designed a show apartment at the Odeon Tower in Monaco with "Luxury Living" furnishings and decoration, bringing together the Fendi, Trussardi and Bentley brands.
For this project, delivered mid-February 2017, the aim was to bring to life a finished but undeveloped apartment.
The furnishing of a property aims to highlight the volumes of the various rooms to allow prospective purchasers to project themselves in their new home, notes Sabrina Monte-Carlo. The decoration of a show apartment offers a unique character to a decoration that should please the greatest number.
The starting point for the choice of decoration was therefore the existing marble floor, featuring hints of grey, bronze and navy blue.
Velvet and silk satin cushions with fur detail create a soft and warm note to winter.
Shimmering gray stretches as a backdrop throughout the apartment soften the atmosphere, while accessories in the luminous tints of yellow and gold bring a colourful note and warmth to the collection. A 'tropical winter garden' theme runs through the three stunning outdoor terraces, inviting to the summer and to relaxation in the sun.

For more information visit: http://www.sabrinamontecarlo.com/