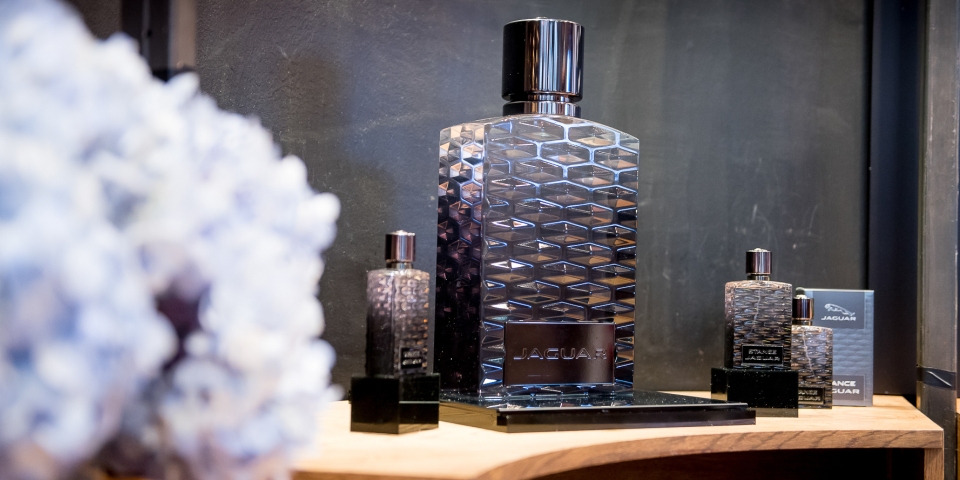 A new addition to the Jaguar Fragrances' collection, the luxury brand's new perfume matches a distinctive, pulsating scent contained in a high impact, textural bottle design
The new scent from Jaguar has been inspired by the faceted Jaguar Heritage lozenge logo, the Jaguar Stance bottle introduces a new visual code, already used as a decorative element in the new Jaguar I-Pace car. Embossed into the smoky black glass, the 3D geometric shapes turns the bottle into a high-impact sensory experience. Matching the debossed plate bearing the name of the fragrance, the dark gunmetal cap is topped with the iconic Growler emblem. The folding box reprises the bottle's striking, textural 3D effect thanks to a high-tech printing process.
The powerful masculine scent, created by Richard Ibanez, make an exciting, modern statement. The top notes feature a bright shot of mandarin and a crisp, juicy apple note are textured by citrusy cardamom, tingling pepper and aromatic nutmeg. It includes, the smoke and flint of vetiver, the velvety depth of patchouli and the musky, sensual smoothness of cashmere wood.
In the drydown, an unforgettable olfactory signature - musk, amber and vanilla bring comfort and sensuality, adding another, complex layer to the potent blend, turning Jaguar Stance into a thrilling sensory experience.
The fragrance is available from Marks and Spencer nationwide and online here: https://www.marksandspencer.com/jaguar-stance-100ml/p/p60216357?prevPage=srp&pdpredirect