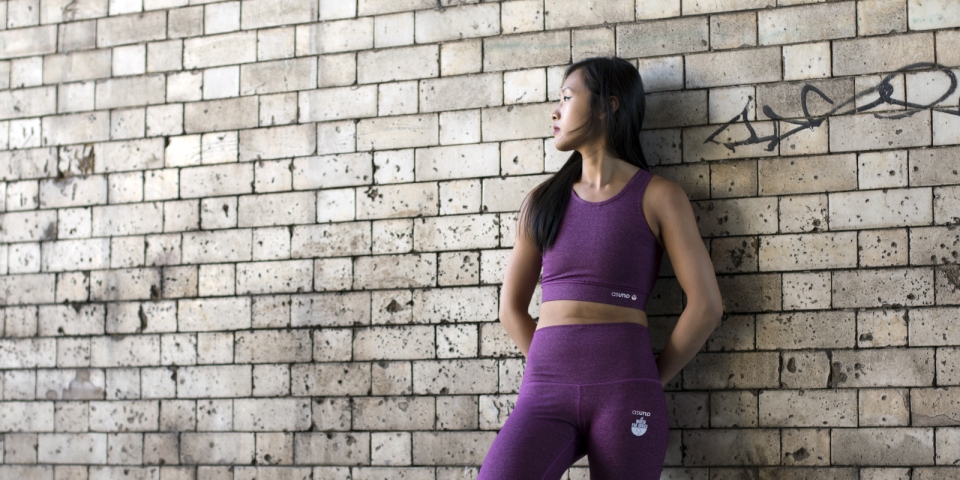 Luxury clothing brand Asuno sells premium quality active wear (fitness and yoga) and for each item you buy they provide either food, water or an identity for a child in need
Please tell us what you do (a brief introduction to set the scene)
Ben: ASUNO is a UK-based fitness and yoga clothing brand passionate about making an impact on the world. Our team design beautiful, premium quality, functional fitness clothing that saves lives. Launched in July 2018, our mission is to bring charitable actions to everyday life by allowing consumers to help the world with every purchase.
Each clothing item in the Asuno range combines consciously-chosen, premium quality materials partnered with elegant British design to ensure our consumers are performing and feeling their best whilst they workout. More importantly, Asuno is unique due to its integration of charitable actions with every purchase, through collaborations with our three UK charity partners, Plump'd, Water For Africa and Toybox.
What inspired you to create Asuno? (talk about your inspiration, passion and background)
Ben: With sport and fitness being a respectable part of my life for over 10 years, its an area I am passionate about and also understand. Seeing the tangible link between charity and fitness, but having no way to support these amazing causes on an everyday basis, meant Asuno was born.
I wanted to bring a sports brand to the world where every individual interested in helping the world could do so just by the purchase of the clothing they wear to stay fit and healthy. No complicated donation procedure, just a clear action carried out with every purchase. Our customers enjoy the knowledge that they have helped save a life whilst getting a great product.
Asuno supports Plump'd, Water for Africa, and ToyBox – why did you choose those three charities?
Ben: Food, clean water and an identity are three fundamental human factors that everybody on this planet should have access to, regardless of where or when they were born. Our three charity partners each support one of these causes, and we are so proud to be contributing help to those people who do not have ready access to these three resources.
Plump'd is a charity working to provide life-saving RUTF (Ready-To-Use-Therapeutic-Food) to acutely malnourished individuals and children in humanitarian crisis and conflict zones. Water For Africa creates sustainable clean water sources for regions in the Gambia by installing hand pumps and drilling boreholes which access the water table, and Toybox's aim is rid the world of street children. We support their identity program that provides birth certificates to un-registered children in Guatemala, allowing them to access school, hospitals and all the other human rights every man, woman and child should have.
How does each purchase support these charities, what difference can a single purchase really make?
Ben: We never wanted our customers to be asking "what next?" with their donation, so we defined clear actions to be carried out with the purchase of each item of clothing. Giving our customers a quantified value to their purchase, each charity partner has agreed to carry out that said action when a purchase is made.
Plump'd are able to provide 7 life-saving RUTF sachets with every purchase, rehabilitating one child, or providing much needed nutrients for seven individual children. Every purchase supporting Water For Africa is another step closer to the next water well being built. It costs £4,500 to drill a well to completion, so this is by far our most ambition metric but nonetheless a completely achievable one – once one well is built, we'll work towards the next one. Whereas Toybox can provide a birth certificate with every 13 items sold supporting their cause.
We will track donations and showcase the positive effect on those lives affected on our website for our customers to see the change they are making by buying Asuno clothing and supporting our charity partners.
How does Asuno manage to balance people and profit? Is this something you think more fitness brands could do – if so, how?
Ben: Clothing brands, similar to most new businesses out there, have flexibility in their profit margins to do social good and donate a percentage to support worthy causes. In the early stages of a business, with minimal overheads, this is relatively simple, yet as businesses grow and profit margins begin to shrink, strong initial planning can allow a brand to continue to donate to charity even with these reduced profit margins, so there is really no excuse for brands not to.
There are numerous ways for a company to do social good beyond profit donation:
Become a corporate sponsor - Support an event, provide funding, advertisement or venues for your chosen charities fundraising events.
Invoke a buy one, give one ethos - Choose a cause that aligns with your company's products, and invoke the buy one, give one mentality into your business model.
Become a corporate partner - Build a strong business relationship with a charity, support them with co-branding and advertising campaigns. Make it easy for your customers to donate, promote the charity on your website, social media and in your newsletters.
Active wear also needs to be functional (not just ethical) – how functional is Asuno when you're working out?
Ben: Asuno active wear is made with materials that are specifically chosen to help the athlete perform at their best. We look at material properties; our soft-stretch materials are breathable, help wick moisture away from the body and provide full range of motion, keeping you cool, supported and focused.
Across our ranges we use compression to help blood flow to muscles, varying waist height to flatter and support the individual, and introduce elegant design to allow you to look as good as you feel.
The Asuno product range has been created using high quality materials. Why was it important for you to create luxury active wear?
Ben: Alongside functionality and durability, customers have come to expect more from their activewear. It now has to look fashionable, provide support and comfort during and after your workout, and compete with other brands available. Here at Asuno we use our in-house team to product test every item making sure the materials live up to our high standards and perform their best in the gym or yoga studio. Only those that pass these rigorous tests make it into our clothing.
Our customers expect a very high standard and we endeavor to live up to and surpass their expectations.
What are your plans for the future?
Ben: We plan to increase our product lines, introducing new styles and variations. Our winter range is in development and will be launched late 2018, and then looking forward to our summer lines for 2019, we have loads of ideas ready to bring to life.
We also aim to bring on more charities, providing help to more people through different causes and different locations across the world. These charities will be brought on board as either fixed or guest charities, where in the case of guest charities we will run limited edition lines that support them for one-off clothing runs. Once those items are sold they will not be re-stocked. So, plenty to look forward to.
Where can we find out more?
You can find out much more:
On our website: www.asuno-uk.com
On our Instagram: @asuno.uk
We are also currently crowdfunding on IndieGoGo, where you can get hold of our Launch t-shirt and Leggings before anyone else: www.igg.me/at/asuno