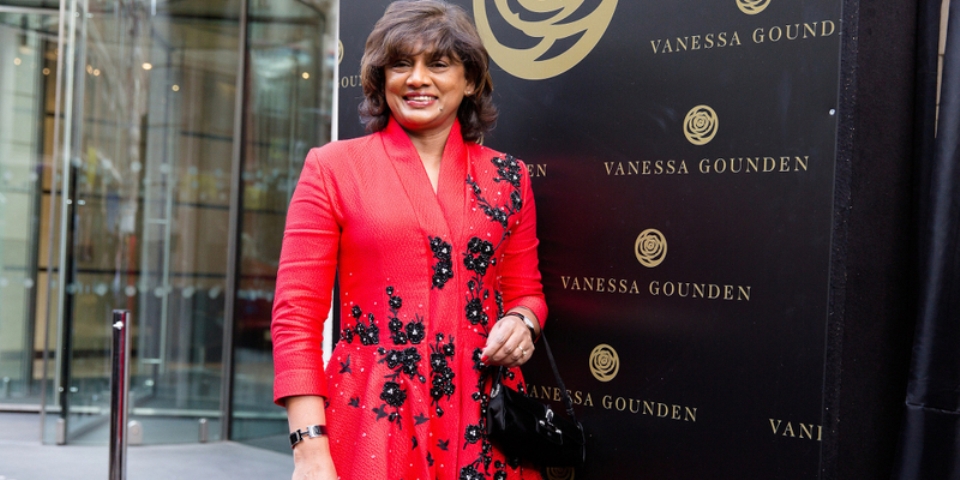 The largest annual African fashion event in Europe, Africa Fashion Week London (AFWL), is back for Season nine and will run from 9-10 August 2019, featuring South African Vanessa Gounden
Ethical, stylish and luxurious: these three words summarise the design and feel of Vanessa Gounden couture. Vanessa has taken inspiration for her exceptional designs from her South African heritage based in the heart of Durban and fused it with the traditions of local artisans and the skill that comes from decades of celebrated specialists within the textiles industry to create masterpieces that have inspired hundreds of loyal clients to buy her collections.
The Durban-born designer is renowned for being one of South Africa's most successful mining magnates – for her business savvy and for the role she played in South Africa's political landscape. She began her career as part of former South African president, Nelson Mandela's administration in 1994 and also worked with Mandela's successor, Thabo Mbeki, as manager of the Human Resources for the National Intelligence Agency.
Her career evolved into a passion for fashion and by the time she launched in London in 2011 under the label 'Vanessa G,' Vanessa was dressing international models such as Poppy Delevigne, Jade Jagger, Yasmin le Bon and Natalia Vodianova.
Since then, her wearable-art garments have showcased at several London and New York and South Africa Fashion Weeks. International celebrities such as Princess Charlene of Monaco, Nomzamo Mbatha, Pearl Thusi, Orange is the New Black actress Dascha Polanco and James Bond beauty Naomie Harris have also graced her designs.
In 2015, she opened her flagship store in the heart of London's Mayfair district where she still operates today.
Vanessa's signature style combines bold prints and patterns with innovative tailoring techniques, such as 3D layering. Her work is handcrafted in the finest luxury fabrics and embellished with hand-painted buttons, beading and embroidery.
Vanessa designs her work for intelligent, glamorous, spirited women where classic styles endure over trends. Each collection centres around a concept that is close to Vanessa's heart, the narrative beautifully created on garments with such attention to detail, each piece retains its sense of bespoke individuality.
With a strong sense of citizenship and responsibility, Vanessa is committed to uncover and sponsor new artists as well as train and employ craftsman, tailors and seamstresses in fine skills and pattern matching.
Artistry and techniques already used in Vanessa Gounden creations have revived bygone textile skills and provided employment to local artisans not only in her South African based Atelier but in various parts of the world where unique talent is discovered and nurtured.