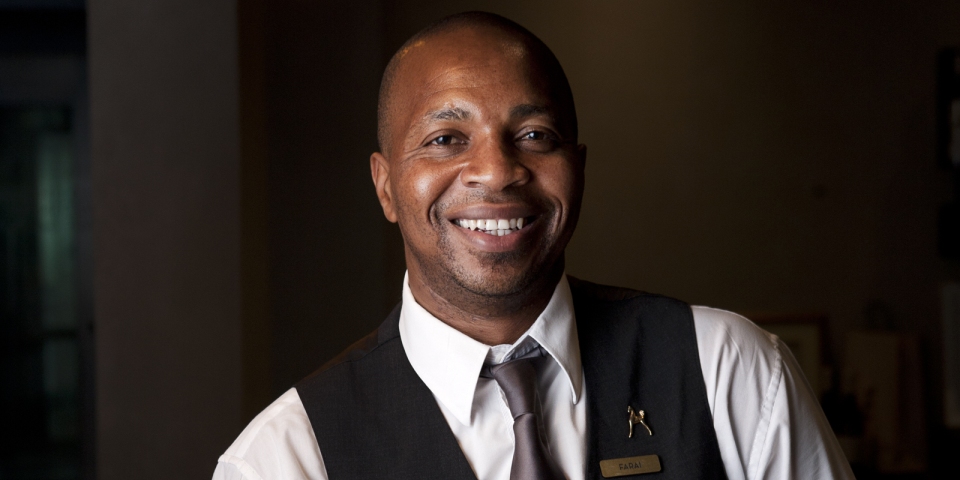 Cavalli Sommelier Farai Magwada talks to Elite Living Africa about springtime wine inspiration
Just in time for an exciting wine and new menu reveal at Cavalli Estate, we spoke to Head Sommelier Farai Magwada about the Cavalli Filly Chenin, the new vintage Cavalli Warlord, his wine inspirations, favourite Spring flavours and his vision for Cavalli wines.
There's fresh energy at Cavalli with dynamic chef Michael Deg at the helm of The Restaurant at Cavalli and some great new Springtime wines and menu concepts being revealed. Please tell us about Cavalli's wine and vineyard philosophy?
Farai: At Cavalli we always strive to do the best and our team at the helm, including Master Chef Michael Deg and winemaker Craig Barnard, aim to deliver truly memorable gourmet experiences. We truly believe that good wine is made in the vineyards and Craig strongly upholds the concept of sustainable viticultural practices, overseeing the development of the vineyards in such a way that only the best quality fruit is produced. In the cellar we work with smaller batches and strive to create world-class hand-crafted wines that reflect the terroir of the Helderberg.
Cavalli is presenting a fresh Chenin just in time for the warmer months, how do you describe the Filly in terms of flavour?
Farai: The Cavalli Filly shows true varietal typicity. Notes of tropical fruit on the nose follow through on the palate, culminating in flavours of white peach and white melon with subtle hints of honeysuckle, almond and vanilla. Flavours are supported by elegant wood with a fresh, persistent finish.
For those who prefer an elegant red, the new vintage Warlord is also a new addition to the Cavalli stable of Flagship wines. Please tell us about this new vintage.
Farai: The harvest of 2016 produced exceptionally elegant fruit for us. Our Cavalli Warlord holds a fresh new blend, it is still predominantly Cabernet Sauvignon, but now has approximately equal parts of Malbec and Petit Verdot. This new vintage shows intense fruit without being 'jammy', with well-poised structure. It is surprisingly accessible for a young wine given it has spent 18 months maturing in French oak. I think it will be interesting to see how the Cavalli Warlord develops, as an unashamedly bona fide South African Bordeaux-style blend.
What would be the ideal meal to pair with each of these wines and what can we expect to find on the new RAW menu at Cavalli?
Farai: The Cavalli Filly Chenin blanc will go perfectly well with our sweet potato and pine nut ravioli and the Cavalli Warlord with our venison loin, both served at the Restaurant at Cavalli by our very own Master Chef Michael Deg.
Do we still have to follow the old rules— red with beef, white with fish?
Farai: Not at all, those days are long gone! I'm a strong believer in savouring dishes with whichever wine you enjoy. Red wine with fish is known to create an umami taste on the palate, hence the old rule of limiting pairing options. Only now are we venturing out to try different combinations of red wine and fish for example and re-investigate using science to reconsider outdated rules. The way the fish is prepared also plays a big part; is it chargrilled, pan fried, seared, cured or raw? I find fresher elegant reds (Grenache, Pinot Noir, Gamay Noir and Cinsault) work well with fish and some well-structured, bigger and bolder whites go well with beef. A more modern take on the old rules would be to match food with wine in terms of comparable richness.
What do you feel are some of the questions people should ask their sommeliers but don't?
Farai: A question I would invite, for guests with basic wine knowledge looking to expand their drinking horizons, is for example: "Will I enjoy the wine that you are recommending, given that my preferred style of wine is 'xyz' and the flavour profile that I like is 'abc'?"
Describe your first 'Aha!' moment with wine and how this shaped your path towards becoming a sommelier.
Farai: When I first started out in the business, I was working as a waiter alongside a professional sommelier and was fascinated. I had above average self-taught wine knowledge as a waiter, however did not know how to harness this knowledge to improve the guest experience. I watched the sommelier closely and realised that I did not know as much as I thought I did. I knew then that I had to improve my knowledge, took up wine courses and am still learning to this day.
What is one of the best or most memorable wines you've ever tasted?
Farai: One of the most memorable wines I've tasted was a beautiful vintage bottle of Beaumont unwooded Chenin blanc. I feel that the moment of tasting and the people you share a tasting experience with really shape a tasting memory. This was one of the first times I had had the privilege of tasting a South African Chenin of this calibre and I remember being so proud of the stellar wines South Africa is able to produce.
What is your advice for aspiring Sommeliers in South Africa?
Farai: Remain humble, learn, observe and taste as much as possible, wine is such a beautiful ancient craft and the learnings are infinite.
With all these exciting wine and gourmet developments happening at Cavalli, please share your long-term vision for the estate.
Farai: I see Cavalli becoming a formidable culinary powerhouse and the ultimate winelands destination combining world-class signature Helderberg wines with gourmet impressions and an array of unique experiences from art exhibitions to equine outings.
For an unparalleled winelands experience, visit the Gallery, dine at the Restaurant at Cavalli in the hands of Master Chef Michael Deg, embark on an equine adventure and indulge in wine tasting in the state-of-the-art tasting room.
To view all aspects of the Cavalli experience, visit http://cavallistud.com/