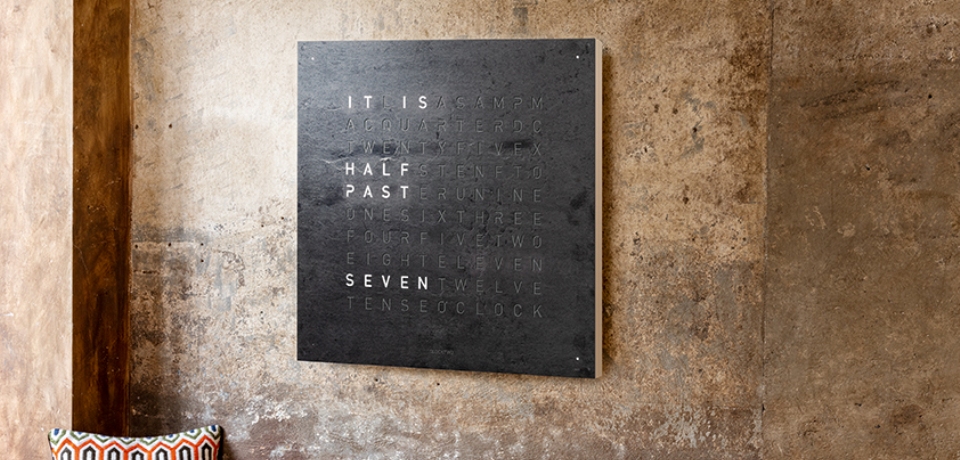 German Clockmakers QLOCKTWO have put an age-old twist on the with their latest technological timepiece - the Creator's Edition Metamorphite
Literally millions of years in the making, the contemporary timekeeper moves away from QLOCKTWO's classic acrylic glass base in lieu of something more rustic. Each clock is made using an ancient slate tile, which is coloured with a natural blend of grey and brown sedimentary rocks to add a newfound element of depth to QLOCKTWO's contemporary design.
Unlike your run-of-the-mill clock, QLOCKTWO's latest feat can speak up to twenty languages with the clock moving forward every five minutes using illuminated surfaces and characters. In an attempt to streamline the way we tell time the clock also features four small dots, each representing the minutes in between intervals.
The time itself is spelt out using words instead of numbers, which change with pinpoint accuracy as you go about your day. Each letter is laser cut for a pristine finish, which (when combined with the natural charm of the slate base) makes the clock's appearance all the more striking.
QLOCKTWO's cutting-edge clock is the brainchild of designers Marco Biegert and Andreas Funk, who came up with the idea while in their native town of Schwäbisch Gmünd. Speaking of their latest creation, Marco said, "The idea regarding the material and colour as well as their extraordinary structure was obvious. Andreas continued, "The irregular surface structure of the grey slate really makes the letters shine."
The Creator's Edition Metamorphite clock can be purchased from the QLOCKTWO' website on https://store.qlocktwo.com/