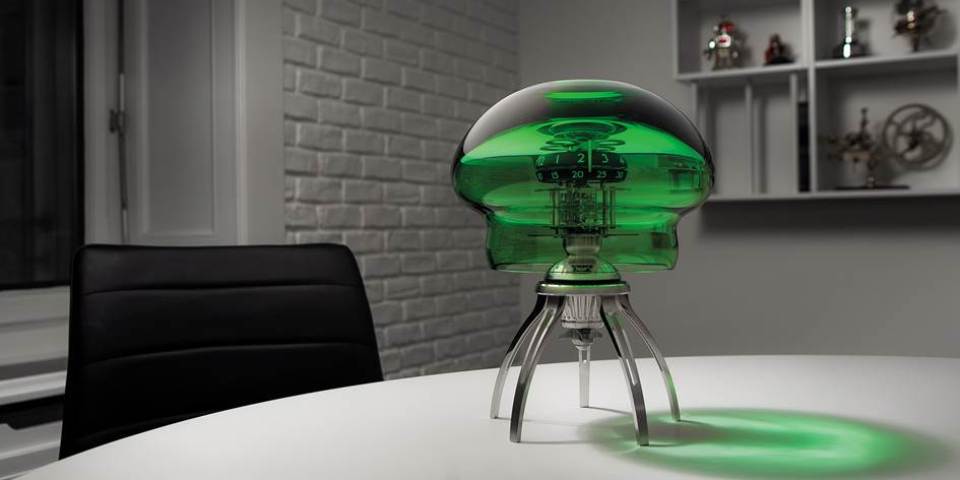 Visionaries at the MB&F Horological Lab have made a splash with their tenth collaboration with Swiss clockmakers L'Epée 1839
Taking pride of place as a catch of the day, Medusa is a decadent dual-configuration clock housed inside the body of a neon chic jellyfish.
The cutting-edge clock combines nautical beauty with a decadence only found in the craft of a Swiss watchmaker. Housed under a smooth, transparent dome of hand-blown Murano glass, the clock functions as two stainless steel rings - one showing hours, the other minutes - rotating to show the time with razor precision.
Embracing the quirks of their deep-sea muse, the clock has been tailor-made to glow in the dark, commanding attention with its delicate design and adding ambience to any dimly-lit room.
The visionary clock has taken two years in the making, with independent designer Fabrice Gonet proposing Medusa to MB&F founder Maximilian Büsser back in 2016.
Speaking of the initial design, Büsser said, "I've known Fabrice for some years but we never had the chance to work together before. When he wanted to show me one of his designs, I accepted, even though I don't normally say yes to this kind of thing — also because I saw that his design was of a clock and not a watch. The vision was so clear that, in the end, the final clock turned out to be very close to the initial sketch."
L'Epée 1839 approaching 40 celebrated glassblowers in an attempt to craft their visionary jellyfish body. However, only four artists were up for the challenge, with just one mastering the art of hand-crafting the clock's unconventional design.
Medusa comes in three limited editions of three pieces, hand-crafted in blue, green or pink to reflect the natural hues of the common jellyfish. It can be either placed on a table as an eye-catching centrepiece or hung from the ceiling to present its fully-decorated glass tentacles with the help of a custom-made mounting system, which has been handcrafted into unique lengths and shapes for a free-flowing underwater effect.