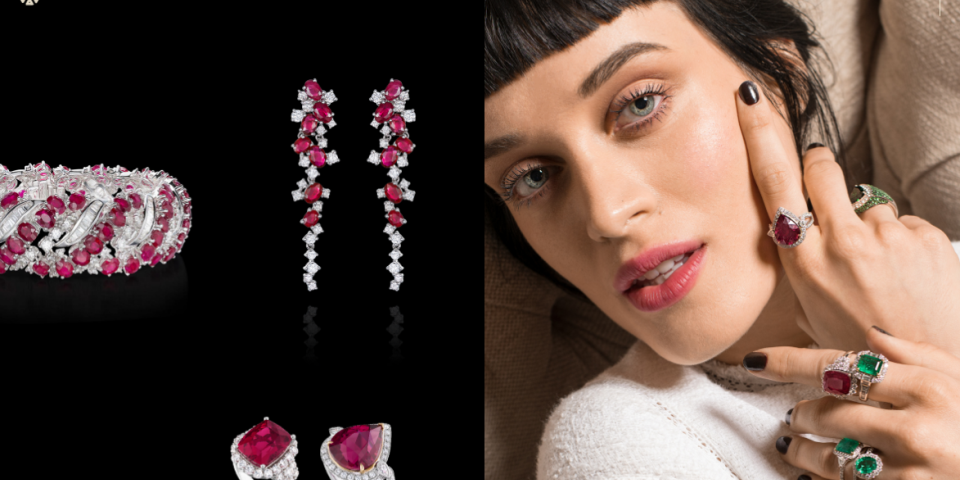 Ortaea has launched beautiful new collections at Harvey Nichols - the Pink Diamonds range and new Mozambique Ruby collection
The Mozambique ruby is a comparative newcomer and with it forward-looking fine jewellers like Ortaea are giving the gem a very contemporary twist. Noted for its colour, size and brilliance, the Vivid Red or Pigeon blood red Mozambique ruby is the finest quality in terms of colour. Since the stone only contains silk inclusions, these rubies are less common and therefore more expensive.
Ortaea's new ruby earrings are a tumbling waterfall of rubies and white diamonds which cascade in beautiful symmetry. The show-stopping ruby cuff is another master class in fine jewellery expertise, crafted to co-ordinate with the earrings in 18kt gold, white diamonds and beaded with vibrant rubies.
"Jewellery is a boundless form of expression, a means to explore ideas that trigger thought and capture the imagination. A passion for nature evoked by my childhood in Africa, my fascination for history, mythology and astronomy and my curiosity about the expansive mystery of the Cosmos inspire me to seek knowledge and create for Ortaea," Ortaea founder and creative director Mita Vohra said.
New Bridal Collection by Ortaea
This season Ortaea fine jewellery unveils a beautiful bridal collection featuring one of the most sought after gemstones, the pink diamond. This precious gem is known for bringing beauty and harmony to the wearer, making it the perfect partner to a proposal or as wedding day jewellery.
The range includes a series of 18kt white gold and pink diamond rings and earrings, each showcasing Ortaea's expert craftsmanship and ability to celebrate the unique beauty of each stone. Full of meaning and symbolism, and evoking a sense of eternity, the diamond ring is also symbol of Venus, the Goddess of Love. Creative Director Mita Vohra adds "The pink hue also represents the colour of unconditional love, which is what I love most about these gems."