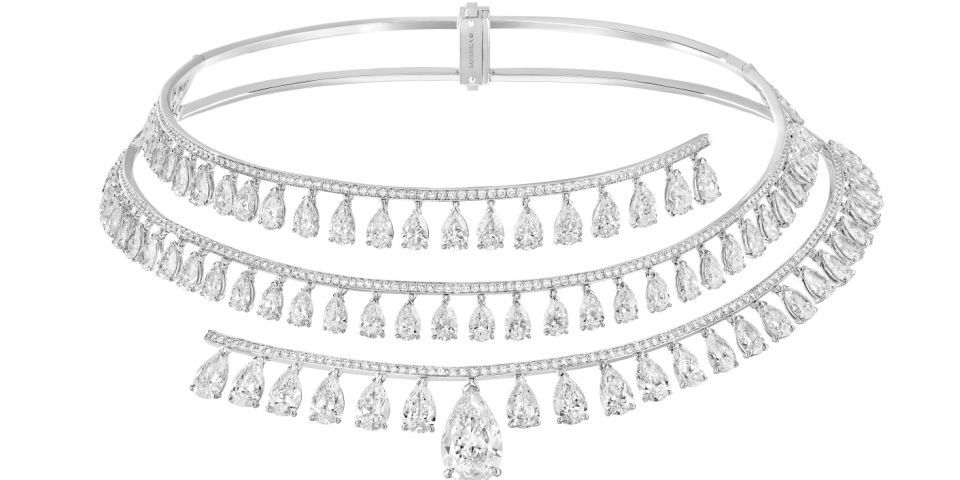 Valérie Messika has unveiled six new creations inspired by the home of the Snow Queen
The pear cut, traditionally a round and indulgent shape, takes on a new power and strength to pay homage to the heroine of this fairy tale. The pear cut is a work of art that fitles like a coat of ice with gorgeous movement, thanks to its special stacking technique.
A more minimalist version of the larger single earcuff is offered in the form of a Diamond Whirl mini hooped earring using pear-cut diamonds. The designer will deliver a matching pair, adorning a woman's facial features with two miniature spirals of starlight. The piece presents 32 pear cut diamonds from 0,10ct to 0,48ct for 4,9ct.
An elegant collier crafted in delicate pear-cut stones gives the illusion of a whirling, blizzard-like composition of free-moving pear cut diamonds, it is perfectly positioned on a diamond thread enhanced with the technical elasticity of the Skinny range. The piece whirls around the neck, creating hypnotising pear cuts that ripple and glitter in the light.
The rest of this article can be read in the latest issue: http://www.elitelivingafrica.com/current-issue