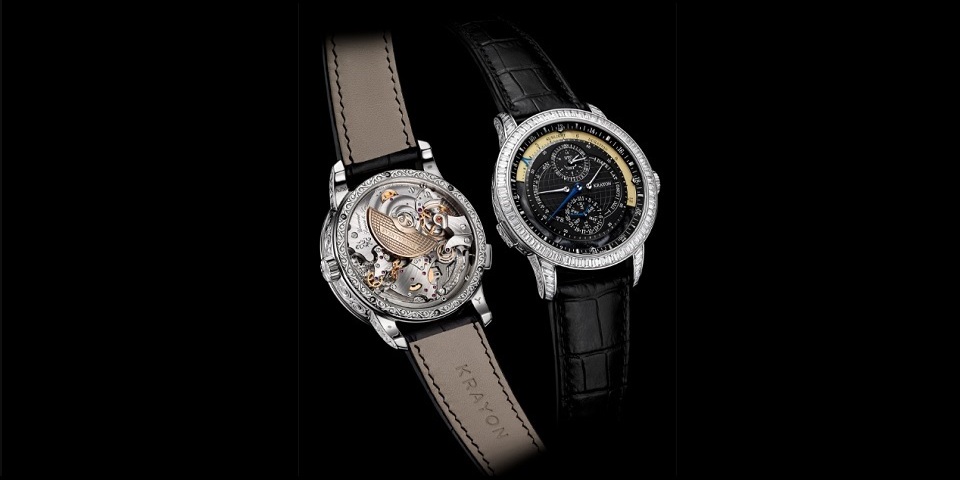 Movement developer Krayon presents Everywhere, with a truly unique complication that calculates sunrise and sunset times
Krayon's engineers nurtured their dream to be able to know sunrise and sunset times at any point on the globe, thanks to a mechanical movement. this innovative complication is adjusted simply by the crown. The USS calibre, short for Universal Sunrise Sunset, equips the Everywhere watch whose dial transposes to the wrist a fascinating astronomical phenomenon: the movement of the sun across the sky, wherever the wearer of the watch may be.
The dial reveals the number of daylight hours on a lighter coloured circle, yellow or pink depending on the version. A darker circle symbolises night. The point at which the two circles meet corresponds to sunrise and sunset. As the seasons change, or at different locations, the number of daylight hours lengthens or shortens.
The watch's wearer sets longitude and latitude, which geographically define a point on Earth, then the UTC time zone and and lastly the date and month as required to then see the precise hour at which the sun will appear and disappear, in the place of his choice and on the day he wishes.
The hands and indicators in daily use – date and time – are in blue to visually stand out for maximum legibility. Contrasting with them, the hands corresponding to the settings have a softer colour which can be white gold or pink gold, depending on the version.
The concept of the USS calibre is nothing short of exceptional. All 595 components have been designed and manufactured specifically for it, thanks to which Krayon's engineers have succeeded in producing a surprisingly compact movement - given its immense complexity - measuring 6.5mm high. This ingenious calibre is able to combine parameters that give opposing information, such as sunrise and sunset times. It also incorporates an equation of time, a secret function that is not shown on the dial, in order to calculate the different parameters. The USS calibre is fitted with four differentials, 84 gear assemblies and a total of 145 gear parts. Three patents have been filed to protect these inventions. Automatically wound by a white gold micro-rotor, the USS calibre delivers a 72-hour power reserve and beats at a frequency of 3 Hz.
The finishing and decoration of Everywhere are entirely by hand, in keeping with Swiss traditional haute horlogerie techniques. Two versions are proposed, both with a 42mm case size, in pink gold or in white gold, and can be fully personalised on request.