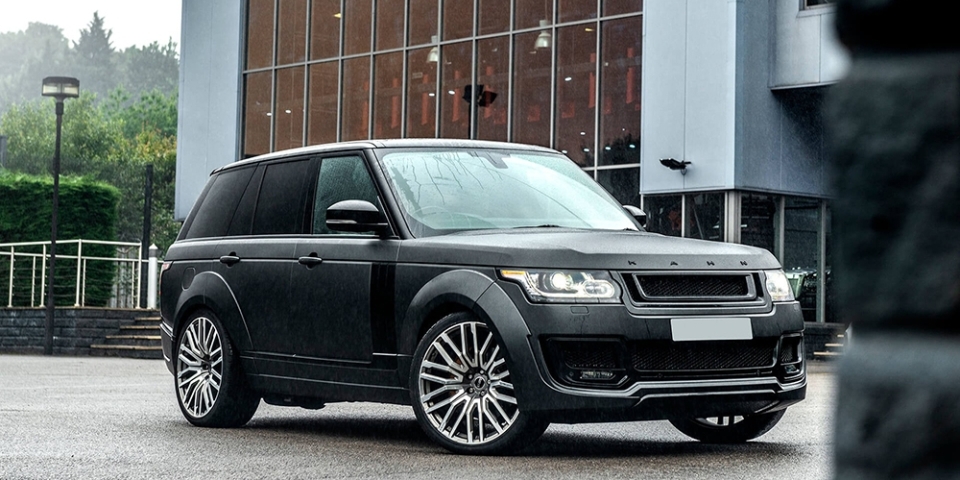 Designed by the global automotive fashion house Afzal Kahn, the new RS Pace Car raises the standard for motor quality and style
The innovative design features black livery exteriors, carbon composite and exposed carbon fibre detailing throughout, along with front and rear widened wheel arches with integrated air dams.
The RS Pace Car has bumpers that have been designed with particular precision, incorporating original front fog lights featuring 3D mesh insert on all intakes. Additionally, the vehicle features a replacement front grille along with an extended boot lid spoiler.
Exterior styling is fashionably complete due to the new edition of Diamond cut on Shadow Chrome 10''x23'' forged Pace Car wheels, which pose as the perfect addition to the newly extended arches, with 305''x 30''x 23'' continental tyres along with new quad cross-hair tailpipes.
As for the interior, The Project Kahn Range Rover Vogue Car includes a redesigned and bespoke touch with quilted and perforated front and rear seats in Black and Ivory leather. The door tops, door armrests, centre consoles, instrument binnacle and steering wheel centre, have all been upholstered to match the new colour scheme. Created using state of the art manufacturing and materials technology, stainless steel door entry still plates greet passengers, while a set of matched aluminium foot pedals prove to be a contemporary addition.
Project Kahn describes itself as being appealing to "The individual who will not submit to a life of uniformity and who will only accept perfection. Dedicated to the creation of luxury bespoke vehicles, we redesign the ordered monotony of mass-produced vehicles and rebuild them into individually tailored creations."
Exterior styling components and enhancements, interior seating, components, trim and lightweight wheels are each available for separate purchase.
The analysis from independent trade specialists CAP shows 18 per cent uplift in residual value when compared to the standard model.