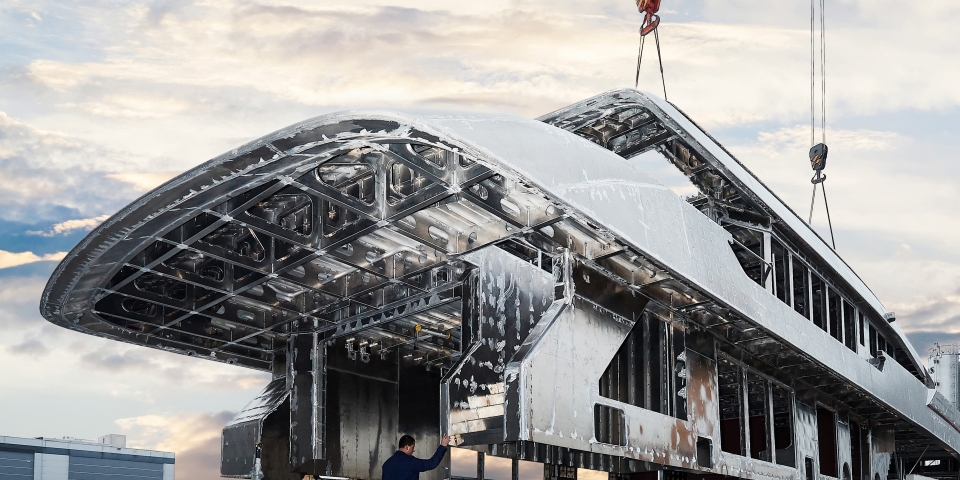 Ship building company Heesen has announced its latest maritime endeavour - the YN 19255 Pollux - is 'on schedule' and will be available for delivery in autumn next year.
Crafted in collaboration with Frank Laupman of Omega Architects, the yacht - known as 'Project Pollux' - is set to maintain a regal atmosphere of both leisure and luxury, as epitomised by its bespoke beach club and wellness area.
The 55m Steel Class model makes classic use of chiselled lines which, paired with sun-soaking floor to ceiling windows, creates an open-plan exterior worth admiring from the shore. Alongside a blend of natural tones of brown and cream (as outlined by British design studio Bannenberg & Rowell), Heesen's latest feat is a tribute to minimalist architecture, celebrating space atop of smoked oak chevron parquet flooring, white Thassos, grey Saint Laurent and ivory Travertine marble. Large doors also offer an elite aesthetic to the ship, providing an intimate connection with the outside world in social areas on the main and bridge deck.
A tribute to hedonism, the YN 19255 Pollux lends plenty of room to enjoying the serenity of sea life. While the exterior deck is an ideal entertainment space, the 100 sq m sun deck is made for lounging, sipping cocktails at the bar and working on your tan away from the bustle of the beach.
Up to 12 guests can unwind between five staterooms, while the 82 sq m Owner's apartment is located in the picturesque main deck of the ship. For those looking to soak after a long day at sea, a his and hers bathroom is home to a large bath (with an impeccable view), as well as a shower.
The ships hull and superstructure recently joined together in Heesen's shipyard in Oss, where the YN 19255 Pollux will remain for the next 16 months until it has been completed and quality tested. After its commission, the yacht will endure sea trials in the North Sea before becoming available for delivery.
For more information, visit the Heesen website.