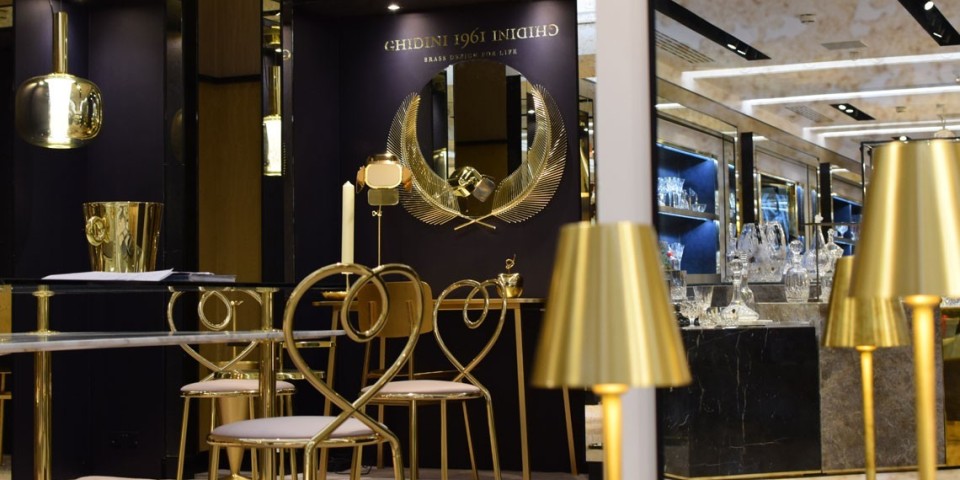 Ghidini 1961 is the latest designer brand to join the ranks of London's iconic department store, Harrods
Amidst the biggest names in design - including Burberry, Alexander McQueen, Fendi and Saint Laurent - Ghidini 1961 will house a curated blend of hand-crafted brass and steel homeware pieces.
A collaboration between Italian designer Ghidini's art director Stefano Giovanni and a range of celebrated creatives from across the globe, Ghidini 1961 is driven to create the best in timeless homeware items, including chairs, tables, sculptures and statues.
The corner shop is decorated with the luxe elegance of Ghidini's designs, alongside a collection of large, contemporary mirrors and stunning brass suspension lamps.
Designed in partnership with Nika Zupanc's, Ghidini's Love Chair was first introduced at last year's Milan's Fashion Week. Embellished with a show-stopping brass heart and selling for $2,295, the hand-made chair can easily hold its own as an accent chair in any hopeless romantic's home.
Similarly, the Katana Armchair blends chic and sophistication with its round seat and three curved legs. Designed by Paolo Rizzatto and with a price tag of $3,284, this chair is the ideal statement piece, tuning heads regardless of its surroundings.
A nod to the retro designs of the seventies, Ghidini's Da Vinci Coffee Table in crystal and polished brass screams nostalgia with its cutting-edge design and crossing structure. Selling for $2,681 and created by Dutch designer Richard Hutten, Who knew a glass oval could look so classy?
All the items from Ghidini 1961's London corner shop can be found on the Harrods website.