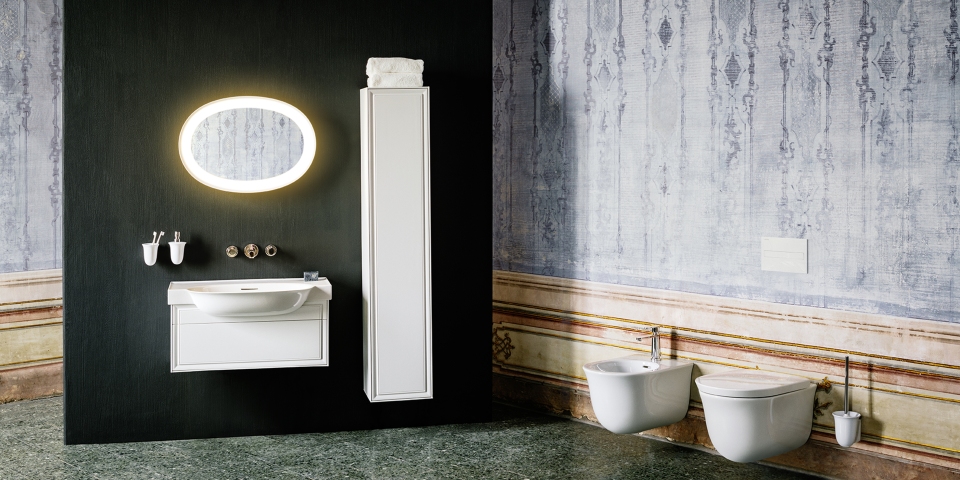 Ceramics specialist Laufen is travelling to ISH Frankfurt next month to showcase a collection of its celebrated SaphirKeramik range designed by Marcel Wanders
Known as the world's leading fair for sanitation and bathroom products, ISH Frankfurt gathers the leading bathroom specialists from across the road to showcase the latest and greatest in energy-efficient sanitarian solutions. The five day event is is expected to welcome more than 200,000 visitors and 2,500 exhibitors from across the globe, including Switzerland's own, Laufen.
Hailed as the brand's greatest achievement to date, SaphirKeramik is a high-tech ceramic material patented by Laufen alongside Italian designers Ludovica and Roberto Palomba in 2013. A range of designers have collaborated with the brand to put their own creative spin on the brand's coveted ceramics, the most recent of which is Marcel Wanders. The Dutch designer has worked alongside big names from the world of high-fashion, including Alessi, Baccarat, Bisazza, Christofle, Kosé Corporation, Flos, KLM, Louis Vuitton, Puma and Swarovski.
Laufen hopes to showcase the flexible character of their beloved SaphirKeramik material through bringing a range of different designers on board. Collaborations include the 'sonar' collection by Konstantin Grcic and Toan Nguyen, 'VAL' by German industrial designer Konstantin Grcic and 'INO' by Toan Nguyen.
In its most recent iteration, Wanders' interpretation uses soft lines and sleek shapes for a refined, contemporary finish. Described by Laufen as 'human' and 'poetic', the range combines romantic design with cutting-edge functionality. The range includes washbins, toilets, bidets and baths, as well as faucets and other bathroom essentials to bring a classic touch of luxury to your home.
ISH Frankfurt will be held from 11-15 March. For more information on exhibitors and products, go to the event's website.